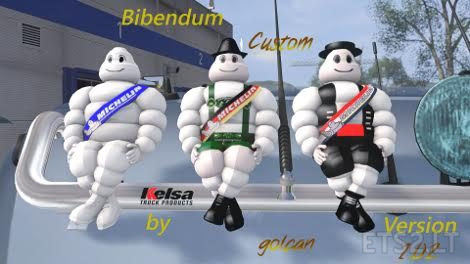 Version:
1.02
Description:
This MOD adds Monsieur Bibendum addon-hookup from Michelin DLC customized with traditional clothes (painted).
Feature list:
The initial version adds the french traditional clothes, and others could be added in the future, if possible.
Compatibility:
ETS2 version 1.26. Michelin DLC is required.
Changelog:
Version: 1.02 – 13/02/2017
– Added Monsieur Bibendum with german traditional clothes.
Version: 1.01 – 09/02/2017
– Added white body and blue sash Bibendum.
– Increased size of model images in store items, for enhanced visibility.
Version: 1.0 – 07/02/2017
– Initial release.
Credits:
SCS Software,golcan
My special thanks to Smarty for his help on tiles.
My special gratitude to 50keda for all his help on the lighting.
Use:
This MOD is intended for your personal use only. Reuploading and/or redistribution of it are prohibited. Respect original download link and credits.
Installation:
Remove previous version of the MOD in Mod Manager (if any).
Copy the MOD file golcan_bibendum_custom_v1.02.zip into the mod subdirectory and mark it as active in the MOD Manager.
Once the MOD is enabled, you will find the customized Monsieur Bibendum in the store.
Contact:
Please, use the thread http://forum.scssoft.com/viewtopic.php?f=175&t=228570 in SCS Software site for comments and questions.
Credits:
SCS,golcan
DOWNLOAD 1.5 MB
https://www.youtube.com/watch?v=Mx-hO7iX0Mw&feature=youtu.be