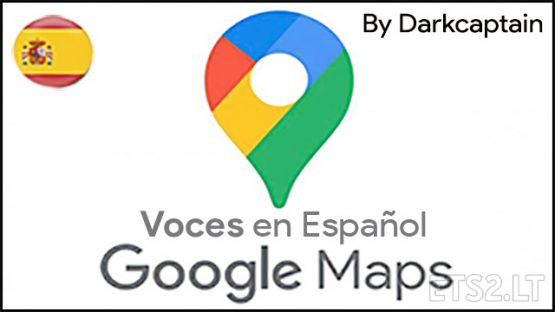 English:
Original voices from Google Maps Navigation in Spanish.
This mod contains 2 different voices, "old" Google Maps voices and the new voices that were included in June 2020.
Sounds have been modified to add effect like speaker (more realistic)
Works with 1.37 and 1.38 version (FMOD Support)
For better experience you can use together with Google Maps Navigation by Sinagrit_baba
Spanish:
Voces originales de Google Maps Navigation en Español.
Este mod contiene 2 voces diferentes, las de Google Maps "antiguas" y las nuevas voces que se incluyeron en Junio del 2020.
Los sonidos han sido modificados para darle un efecto tipo altavoz (mas realista)
Funciona en Version 1.37 y 1.38 (adaptado para FMOD)
Para un mayor realismo puedes usarlo junto con Google Maps Navigation by Sinagrit_baba
Forum Support & feedback:
ETS2: https://forum.scssoft.com/viewtopic.php?f=211&t=286795
ATS: https://forum.scssoft.com/viewtopic.php?f=212&t=286796
Credits:
Darkcaptain
DOWNLOAD 2 MB