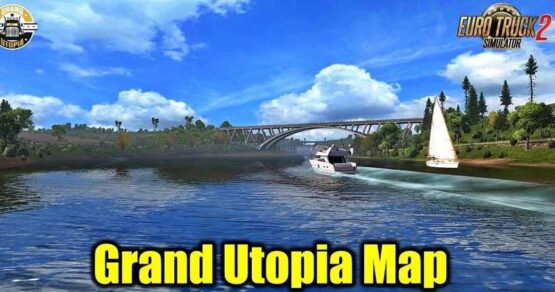 The virtual world of Euro Truck Simulator 2 invites all truck lovers to visit the new Grand Utopia map. On a vast territory there are many roads and interesting interchanges, hand-built cities and picturesque nature.
Peculiarities:
offline map
Scale 1:1
49 cities;
199 companies
22 truck dealers
About 7500 kilometers of roads
Careful attention to detail;
Adjusted the economy;
Traffic configured;
Requires all DLC maps to work;
Built from standard prebuffs, so it weighs very little and is well optimized.
Changes:
reconstruction of the Viaduct de la Vallee Noire on the A1
replacement of the A4 section in the city center of Malter with an avenue
modernization of parts of D13 (bypassing Malter from the north)
D15 parts upgrade
creation of interchange A1/D13
activation of some hidden roads
modernization of Malterra (northern quarters and half of the city center)
fix some bugs and display errors
adding 1 attraction
replacing old textures with new ones
Malterre optimization with a large number of cutting planes
adding custom icon for city bus stops
Installation: copy the downloaded file to the mod folder and connect it in the mod manager.
Launch: you need to create a new profile and select the grandutopia.mbd module
For game version 1.47.x
Credits:
MyGodness
DOWNLOAD 301 MB