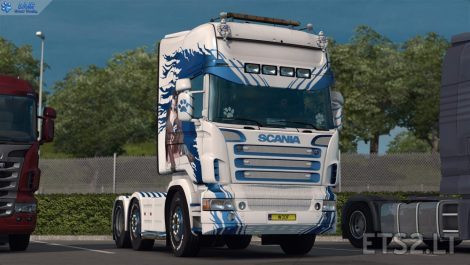 This mod adds a "Mark 4" heavy duty bumper to RJL's Scania R & Streamline.
Mod comes with:
-4 bumper types: plastic, paint and 2 paint/plastic combos
-propper heavy duty grill in dark and painted variants
-propper bumper lights
-heavy duty headlight covers in multiple variants (should work with all bumpers) – you can find them in "fogrings" tuning accessory
-skinning template for painted parts (included in the .zip file)
Download contains a .zip file – that is your mod, just place it in your mod folder , activate it ingame and you're good to go.
Bumpers are available on levels 21-24.
Mod updated to V2.0
What's new:
-tweaked unlock levels – bumpers are now available on levels 11-14
-top part of the bumper "bumper bars" are now a separate accessory (available through the "grill node") and come in additional chrome variant
-added chrome "empty" inner bumper light to match new chrome bumper bar accessory
-added vertex AO texture to the grid models and added chrome grid variant
-slightly tweaked skinning template
-cleaned models and def files
This version of the mod doesn't contain any engine badges, they will be added in future releases.
Warning: After updating from 1.0 to 2.0 some parts may dissappear, just go to tuning shop and resellect the bumper.
Credits:
-Scaniac – base bumper model
-RJL – base bumperlight models/textures
-Wolfi – reworking/refitting 3D models
-GT-Mods Team – porting and updating models for latest game version.
Mod is made with SCS:BT, so it should be fully compatible with OpenGL.
Credits:
Scaniac, RJL, Wolfi, GT-Mods Team
DOWNLOAD 3 MB