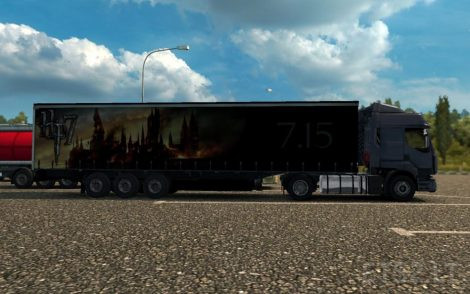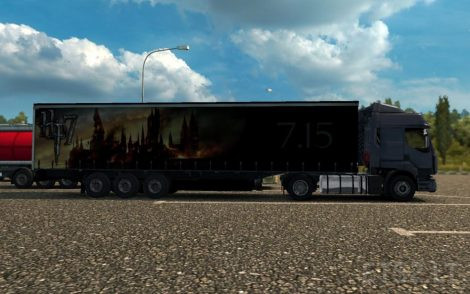 I searched and found that there were no Harry Potter skins for ETS2. So I looked up a tutorial and made my own! ? ? ?
I'm really pleased with myself now. ?
Here's the sceenshots (they won't upload here for some reason): https://postimg.org/image/wmpxs07r7/
https://postimg.org/image/3yczos5kz/
https://postimg.org/image/647aja91f/
It's a trailer skin of the Deathly Hallows Part 2 teaser poster, with the tagline, 'It All Ends Here' and the movie release date (July 15th, 2011).
The trailer is in traffic as well as in jobs, and it is classed as bulk.
There are three types of cargo:
Deathly Hallows DVDs (10 000 kg)
Deathly Hallows Blu Rays (10 000 kg)
HP7 Posters (5 000 kg)
You can find the trailers at many places including Ika Bohag (Ikea); so it is available in Scandinavia if you've got the DLC. But it's fine if you don't have it, too.
I will probably make more HP trailer skins in the future.
I hope this brings joy to some of my fellow Potterheads who also play ETS2. ?
Happy trucking!
Credits:
Me (Hermironry/Radman26/The Charger Dude)
DOWNLOAD 3.5 MB