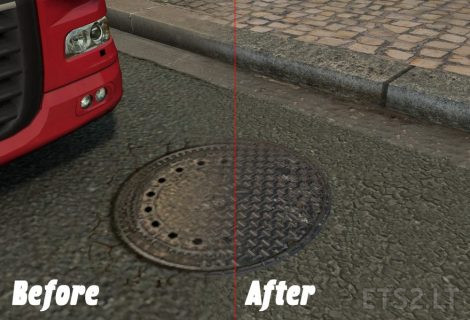 -Mod changes standard definition textures to high definition ones;
-Textures were updated for roads (small roads, highways, motorways), road marking and such objects like: textures of the sidewalks, reflective posts, drain cover and gratings, antinoise walls and road guard rails.
Installation instructions:
1. Extract scs file from downloaded rar-archive to Mod folder;
2. Open in-game mod manager and enable HD Roads mod;
3. Play!
Donate
All my mods are free to download and will be distributed this way in the future too. Hovewer, If you appreciate what i`m doing and want to support my work, you can transfer any amount of money, using PayPal on this email: [email protected]
All donations are voluntarily! Every donation counts! Thank you!
Version history and changelog:
– 05.01.17 Version 1.0. Initial release.
– 26.05.17 Version 1.1.
Changelog:
-improved roads textures;
-improved road marking textures;
-pmg files inside mod converted to the new version to fix yellow warning messages in gamelog.
Tested on ver. 1.27.x of ETS2. Compatibility with older game versions is not guaranteed! Please, keep original download link!
Credits:
AlexeyP, SCS Software
DOWNLOAD 520 MB