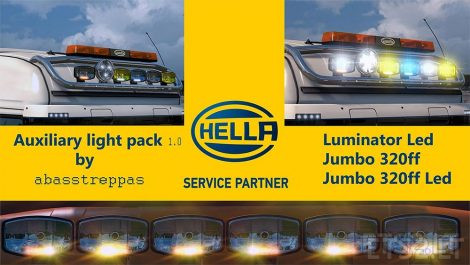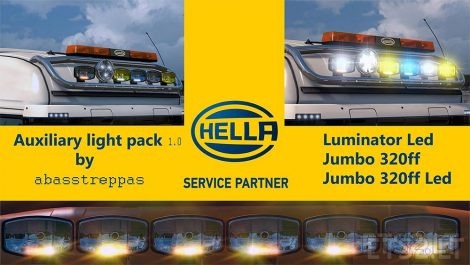 This pack includes:
Hella Luminator Led
Hella Jumbo 320ff
Hella Jumbo 320ff Led
Three versions of "bodies"
Stock black
Chrome
Paint (base_color)
Hella Jumbo 320ff and 320ff Led comes with three different glass color's
Clear
Yellow
Blue
Only Jumbo 320ff Led with clear glass has amber leds
All Jumbo 320ff Led also has a flash led that activates when use of beacon
I have also included a modded version of "no bottomgrill" for RJL Scania RS, which flips the 4 middle hookups around and therefore you can "hang" the lamps there.
All 3D models & flarepack converted in new format.
Clear log!
Mod was tested on latest game version – 1.27
Please, do not repload this mod! Respect my work! I live in a war zone of Donbass and modding gives a small income.Please keep original link if you post it somewhere.
Thank you for understanding! Good game!
Credits:
Conversion & adaptation: Nikola(Konstantin-Donbass) Authors: abasstreppas
DOWNLOAD 9 MB