[Hotfix] Brazil EAA Map AI Traffic fixes v 3.1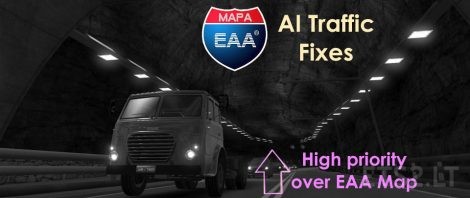 – Bug fixes for AI traffic when using EAA Brazil Map
– Must be placed in higher priority than the EAA Brazil Map and other AI traffic mods.
WHAT'S NEW?
– Cleared magic mark errors in the two new EAA countries from the game log.
– Also cleared magic mark errors for the Scania P and Volkswagen Constellation from the game log for the countries Argentina and Chile.
FEATURES
– High intensity headlights from SCS AI traffic plus EAA Map AI Traffic (Volkswagen Constellation and Scania P) now no longer unrealistically bright
– All stock AI traffic will have drivers in them
– Brazilian police in AI traffic will now only appear in Brazil
– Some vehicles in JLTruck's Brazil AI traffic packs will only appear in Brazil and be more rare to see
– Magic mark bugs fixed for AI traffic in certain Brazil countries
CREDITS
– Atak_Snajpera for improved headlight definitions
– Drive Safely for fixing bugs and adjusting AI traffic frequencies
** Disclaimer:
This does not fix game crashes on the Brazil EAA Map. That is up to the EAA Team. However, this does fix issues from the Brazil EAA Map that affects Europe (i.e. AI Traffic headlight intensity and local Brazilian vehicle frequencies)
(!) Compatible for and tested on version 1.24
Authors: Drive Safely, Atak_Snajpera
DOWNLOAD 156 MB
Popular mods