Improved DAF XF 105 by AlexeyP [1.4.1][upd. 28.11.16]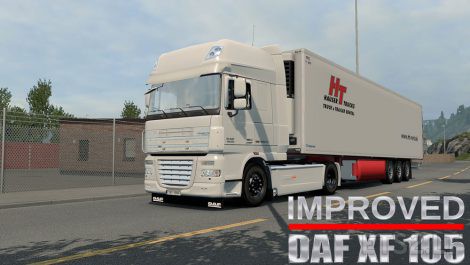 -Completely reworked interior and dashboard with HD-textures, new
parts and components;
-Two new interior variants, four interiors total available: three
factory and one tuned;
-Dedicated interior for Space cabinбины Space;
-Added 3 and 4-spoke steering wheel with various colors;
-Correct dashboard computer by 50Keda;
-New HQ outside interior models;
-Support for both EU & UK trucks;
-Improved visual look of truck model;
-Five new cabins and 30 new chassis variants;
-Standard and chip-tuned engines, which vary by sound too (by
Kriechbaum);
-Lots of realistic ZF transmissions;
-Lots of tuning parts;
-Added engine badges;
-Advanced coupling supported;
-Two new windshield wiper modes;
-Template for creation of skins is included;
-And some other features, which i forgot))
To use tuning parts from 50Keda you will need to install 50Keda Addons
mod first!!!
Always install 50K Addons mod with lower prioriry, than truck mod!
Mod is tested on ver. 1.26.x. Mod is not fully support OpenGL, crashes
are possible!
Changelog:
-added 43 new ZF tranmissions, based on Snoman gearbox data;
-added Paccar MX560 and Paccar MX560 chip tuned engines with realistic
badges;
-added templates for proper skins support and skin creation (by
MrCapital);
-added side windows air deflectors with hole for the side mirror.
Credits:
AlexeyP, Kriechbaum, 50Keda, MrCapital, Snoman, SCS Software
DOWNLOAD 117 MB
Popular mods