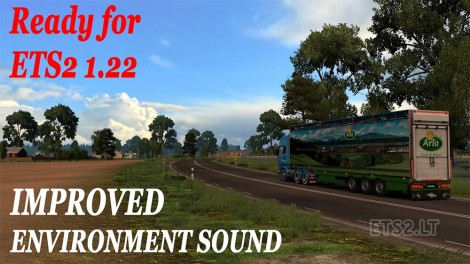 – Mod adds approx. 180 high quality sounds and music for ETS2;
– New real sounds for ai cars and new ai-car horn sounds;
– Every truck now have its own new windshield wipers sound;
– More realistic refueling and coupling sounds;
– New HQ rain, interior rain and thunder sounds;
– New yawn sounds for men/women driver;
– New garage interior and garage gates sound;
– New nature environment sounds: forest and city sounds/ Added new variations of environment sounds (6 forest and 5 city sounds);
– Reworked ambience sounds for companies. Added many missing sounds for different companies (for default, Pro Mods, RusMap and ROS map companies);
– Every company now have 2-4 environment sounds;
– Added many new and changed old sounds for different game objects (movers): animals, people, machines etc;
– New ferry and train (Eurotunnel) sounds;
– New photo mode camera sound;
– Mod is fully compatible with Sound Fixes Pack mod by Drive Safely.
Attention!!! Mod is tested with ETS2 ver. 1.22. Should work on previous version too! Mod is compatible with all map mods, but must have higher priority! Mod was specially adapted for Pro Mods map, Russian Open Spaces map and Rus Map. Also, mod is compatible with Sound Fixes Pack mod by Drive Safely.
Installation:
1. Extract scs file from downloaded archive to mod dir of ETS2;
2. Enable this mod in mod manager. If you use other modded maps, also enable Improved_Environment_Sound_Def_File_for_ProMods.scs file. (Also, look for two jpg files inside downloaded archive for correct order of mods);
3. Play!
Credits:
AlexeyP
DOWNLOAD 416 MB