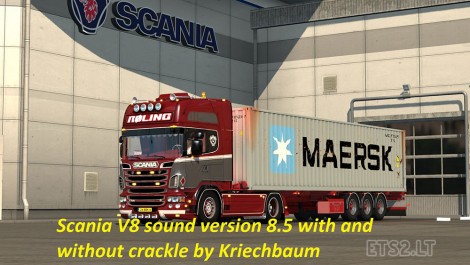 Here it is, an improved Scania V8 sound mod.
Lot of files are new compared to the 8.1 version. Sound is now more deeper and clear.
It works for the Scania R, Streamline, T, and the modified by RJL.
There are two links, one is with the sound with the "crackle" and the second link is the same sound but a little bit more discrete, without a hard "crackle".
In the first part of this video i'm using the sound with the crackle, you can see the "none crackle" version if you go directly to 16:06 minutes.
To have the best sound experience with it, as you can see here, and as in real life, use LOW rev's… It's useless to shift at 2000rpm on those engines ! From 900 to 1700 this is perfect.
With crackle for 1.22 : http://sharemods.com/0xqvz4ukd8x5/Scania_V8_sound_V.8.5____le.scs.html
Without crackle 1.22 : http://sharemods.com/y8fgrgcsuhft/Scania_V8_sound_V.8.5_without__le.scs.html
For the Streamline by Punisher and the Bogdan's V8 there are two others links in the video's description.
Thanks to my friends Matt_Streamline and Ari to have tested it and helped me to improve the sound.
Take this as a little present for Christmas 🙂
-Don't ask for the truck or the trailer in the video, i will not share them.
Thank you 🙂
Author: Kriechbaum
DOWNLOAD 6 MB [with cracle]
DOWNLOAD 6 MB [wihout cracle]