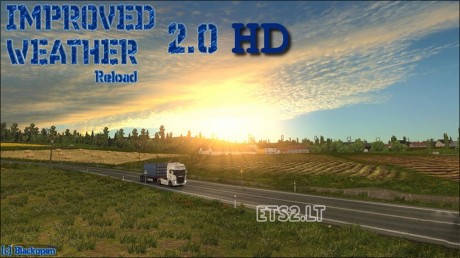 Fully reworked weather using high-resolution textures . 30 kinds of
weather during the day, 18 species of dawn, sunset 15 species , 14
species of pm , 3 kinds of rain . Several kinds of nights , set the
frequency of morning fog , heavy fog rare . HDR set for night glow
light sources , no excess of bloom . Orange lighting lanterns fixed
Flare traffic shadows from the clouds . Not recommended for use with
other weather mods ! Test version 1.9.24.1. Maud becomes perfectly on
earlier versions of the game. Only need to remove parameters :
cloud_shadow of files def / nice_weather.sii, bad_weather.sii.
Credits:
BlackOpen
DOWNLOAD 630 MB
http://www.youtube.com/watch?v=GKWzjWCqlWM