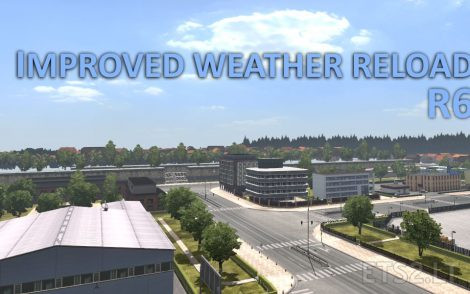 You can see folder "Preview" if you need a screenshots of this mod!
Improved Weather Reload r6 :
– ProMods Adaptation
– 62 high-resolution sky textures
– 13 types of weather during the day
– 12 types of dawn
– 13 types of sunset
– 14 types of evening
– Several types of night
– Fog in the morning
– Adjust HDR for night illumination of light sources;
– No Bloom
– Shadows of clouds.
Tested on v1.25.2.5s and v1.24.2.3s and work well!!!
Don't reupload on other file sharing sites!!!
Don't use other weather mods,because game will crash!!!
Please off color correction and HDR,
because ingame "light" doesn't work well with this functions.
It's not my mod, i only make adaptation for new versions of the game!
Credits: SGate, Supric
Adaptation for new versions:Rightsid3
Credits:
Credits: SGate, Supric
DOWNLOAD 431 MB