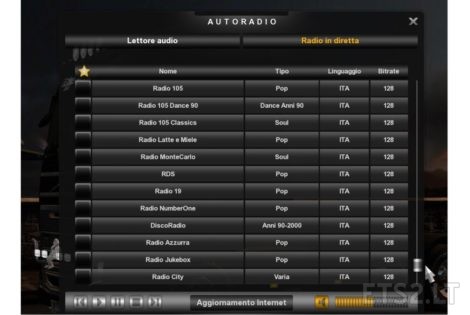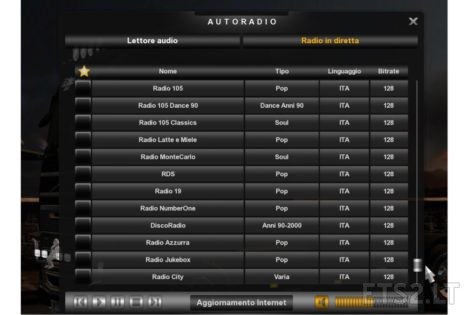 Here you can find a list of Italian Radio Stations URL, to use into the game. Every URL was tested by me, i can guarantee it work.
In the MOD, you can find some of the most famous radio stations in Italy, together with other less know.
If some users want some particular radios to add, he can ask it to me commenting the MOD.
____________________________________________________________
Qui puoi trovare una lista di radio Italiane, dalle più famose alle meno famose, tutte perfettamente funzionanti (le ho testate una ad una).
Nel caso aveste qualche particolare radio da richiedere, potrete farmelo presente, e cercherò di provvedere ad aggiungerla in tempi brevi. La lista è in costante aggiornamento, in seguito rilascerò delle nuove MOD aggiornate.
Qui sotto, la lista delle stazioni radio che potrete trovare.
-Radio 105
-Radio 105 Classics
-Radio 105 Dance 90
-Radio MonteCarlo
-Radio MonteCarlo Lovesongs
-Virgin Radio
-RDS
-Radio Number One
-DiscoRadio
-Radio Azzurra FM
-Radio Jukebox
-Radio City
-Otto FM
-Radio Manila
-Radio Party Groove
-Radio Latte e Miele
-Radio Nostalgia
-Radio Globo
-Radio 19
-R101
-Radio Sabbia
-Radio Studio Delta
-Radio Margherita
-Radio City Vercelli
-Smooth Lounge Radio Station
-Radio 35×80 Back To The 80's
-Milano Lounge Radio
-Radio Onda Ligure
-Dimensione Suono Roma
-Radio Sanremo
-Punto Radio
-Vintage MegaMix
-Radio Circuito Solare – Caserta
-Radio Dance Music
-Radio Nuoro Centrale
-Skyline Radio & Soul
-FM Italia
-Radio Kiss Kiss
-Radio Lombardia
-RAI Isoradio
-Radio Studio +
-ElleRadio
-Radio Subasio
-Radio Gamma Puglia
-Radio 80
-Radio Gelosa
-RSI Rete Uno
-Radio Amore Campania
-Antenna 1
AGGIORNAMENTO: Ho incluso in questa versione:
-Rai Radio 1 / 2 / 3
-Tutte le radio tematiche di Virgin Radio (Music Star, Radio Rock Hits, Rock Classics, Rock 70, Rock 80, Rock Party, Hard Rock, Rock Alternative, Music Star: Rolling Stones, Music Star: Vasco Rossi, Music Star: Ligabue, Music Star: Coldplay)
-Tutte le radio tematiche di Radio 105 (Zoo Radio, Hits, Trap, Story, Hip Hop & R'n'B, 2K and More, In Da Klubb, Miami, Rap Italia, Radio Bau, Music Star: Elisa, Music Star: George Michael, Music Star: Jovanotti, Music Star: Tiziano Ferro, Music Star: Pino Daniele, Music Star: Zucchero)
– Radio Yacht (musica house)
ATTENZIONE: le radio Music Star: Vasco e Ligabue di Virgin Radio coincidono con quelle di 105, per cui ho ritenuto di aggiungere solo quelle di Virgin Radio
ATTENZIONE (2): Per motivi di praticità, ho ritenuto di spostare le precedenti Radio 105, 105 Dance 90, 105 Classics e Virgin Radio assieme alle altre immesse oggi, per aiutarvi a selezionarle senza troppa fatica.
P.S. Altre radio da voi richieste, come Deejay, Capital, M2O e altre, sto provando a metterle, ma gli URL forniti non funzionano. Appena ne troverò di funzionanti, verranno immesse anche quelle.
Credits:
Dexter15291
DOWNLOAD 8 KB