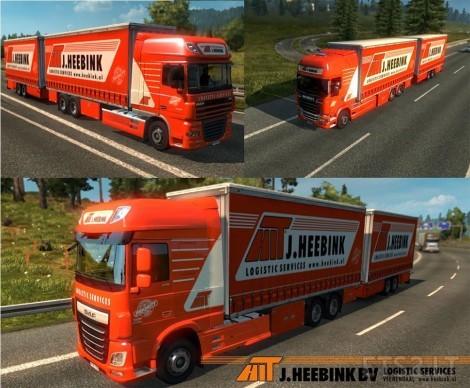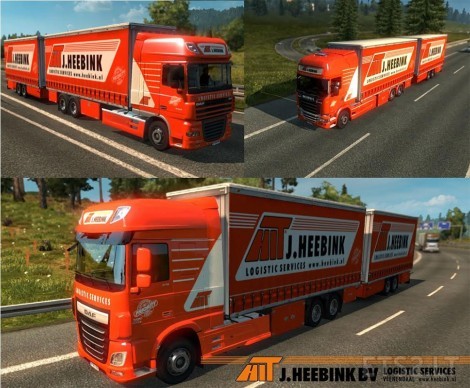 Heebink skin AND tandem MOD.
This mod is created with original designs that I received from J. Heebink Logistic Services.
This mod contains the following skins:
Trucks:
DAF XF Super Space Cab Euro6 skin
DAF 105 XF Super Space Cab skin
Scania R Topline Skin
Scania Streamline Topline Skin
Trailers:
Krone Profiliner
Krone Coolliner
Tandem:
Tandems are only available with the above listed trucks and the below described tandem trailers.
ONLY Profiliner 6×4 chassis. with or without Taglift.
This mod only spawns the double axle tandems.
Caution!!
Before you turn of this mod you have to sell or delete the tandem trucks first!!! After removal you have to sleep 2 in-game days to refresh the joblist with the standard trailers.
The design belongs to J. Heebink Logistic Services. This mod belongs to me. No unauthorized re-uploads or other ways of distribution are allowed without permission.
This pack also contains the "J Heebink Truck and Trailer Pack v1.0"
Special Credits to Flemming V (tandem MOD)
Credits:
roylee01, FlemmingV
DOWNLOAD 116 MB