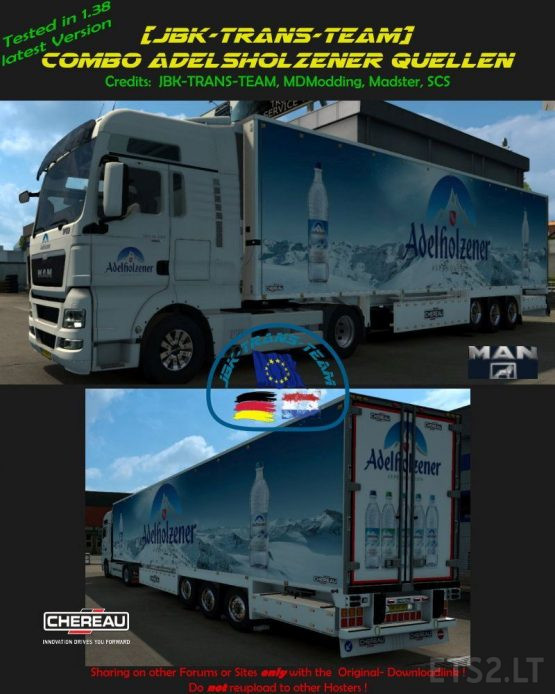 Credits: JBK-TRANS-TEAM, ModsStudio2, MDModding, Madster, SCS
Our first Combo with the new Chereau V1.0 from MDModding
Have a good Ride.
What you need:
– Madster´s MAN TGX 2.5 + Fix for 1.38
– MAN TGX from SCS, suitable for all Cabins
– MDModding Chereau V1.0(still WiP)
( https://forum.scssoft.com/viewtopic.p…p;t=259133 )
Skins:
– JBK-TRANS-TEAM
—
Tested in:
1.38.xxx Errors or Problems? contact (ed) jbk-trans [dot] eu
If you want to support us: https://paypal.me/JBKTRANS
***You don´t need a Password, put in your Modfolder and activate***
—————————————————————————
THIS MOD IS LICENSED UNDER A CREATIVE COMMONS
ATTRIBUTION-NONCOMMERCIAL-NODERIVATIVES 4.0 INTERNATIONAL LICENSE:
https://creativecommons.org/licenses/by-nc-nd/4.0/
—————————————————————————-
ATTENTION / ACHTUNG:
Sharing on other Forums/Sites only
with the Original-Downloadlink !
DO NOT HOST ON OTHER SERVERS !
ALL OUR MODS FROM US HANDMADE. NO OTHER MODS ARE USED / COPIED / CHANGED FOR OUR MODS.
WE STILL USE OUR SEARCHES AND PERMISSIONS FROM THE COMPANIES:
WE ARE AGAINST MOD-STEALING !!!
Credits:
JBK-TRANS-TEAM, ModsStudio2, MDModding, Madster, SCS
DOWNLOAD 2 MB
DOWNLOAD 2 MB [mirror]