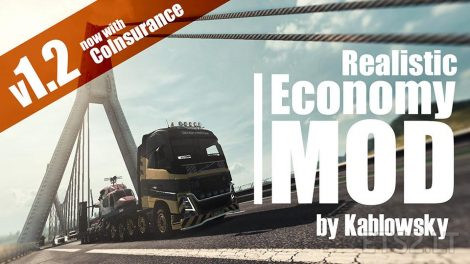 1.26.xx. + DLC Vive La France
***Vive La France Patches***
Vive La France Patch which may solve the toll abnormal behavior due changes in the France's toll system on 1.26.
Vive La France – Default Semaphores, if the first patch didn't solve the issue, use this one. It won't touch any toll data related, but the yellow light times at the semaphores will be the vanilla 2 seconds.
——————————————-
This mod is designed for maximum realistic simulation purposes.
Keep in mind that every career is hard at the beginning and the $$ are low. Every mistake can cost you more than a few $$.
Enjoy the journey, get experience and conquer the road transportation empire.
This mod changes:
– General income
– Costs
– Fuel prices
– Loans
– Garage productive goals
– Truck wear and tear
– Add CoInsurance (reduce repair costs according with your driving habits)
– Police Fines prices
– Skill Progression
– Cargo Validity
– Hired drivers experience evolution
Please, check readme.txt (inside the package) or Mod Description for detailed information about the changes made by this mod.
Keep Truckin'
Credits:
Kablowsky
DOWNLOAD 95 KB