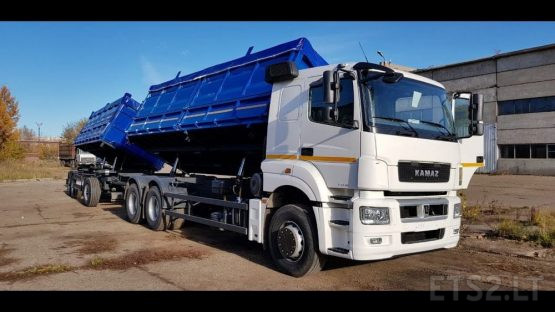 Standalone truck find in Mercedes dealer.
-1 cabin;
-1 6×4 chassis;
-own interior with interior light;
-own dashboard computer with CB-radio player;
-own wheels;
-paintable with metallic colors, scinnamble;
-template & skin-pack included;
-own original Engine Voice Records sounds;
-3 axle grain trailer with Dolly 3D-model V.Rusakov;
-own flarepack;
-support advanced coupling and has own animated trailer cables;
Game version 1.36.xx Clear log without errors & bugs!
SISL's Pack compatibility add-on included.
Mod prodused Nikola_Donbass with official permission author 3D-model NEO Max Dmitriev! Great thanks!
If you wont share this mod in other website save authors link please!
Good game!!! 🙂
Credits:
Nikola_Donbass, Max Dmitriev, Valeriy Rusakov, jon-ruda(animation)
DOWNLOAD 131 MB