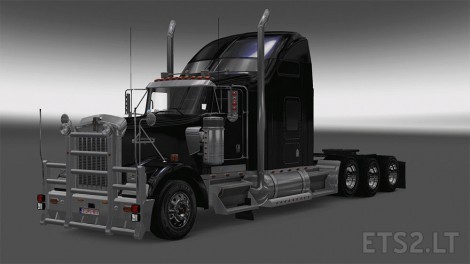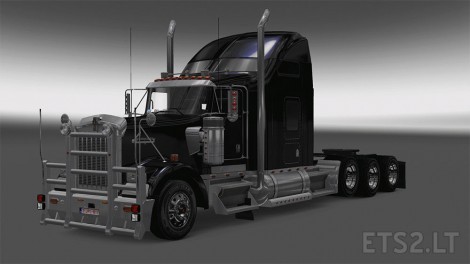 Kenworth W900 Tri-Drive by Bu5ted
Version # 1.0 for ETS2 1.22.0.8s @ v1.23
v1.0 fix
-Mat missing f-mirror.
-Add Viking 389 front bumper.
-For v1.22.xx the 1.22.2.8s.
-Changed FOV for interior view of 70 to 90.
-More weight in the chassis as the original.
-headlight set
-Sound Cummins N14 sound (Kapitan Kriechbaum)
-engine 2800 hp Cummins N14
-transmission Eaton Fuller 18-speed (4:56 Final) + 2 speed (3.90 end +++).
– Po Please test in v1.23.xx
– (I have not updated to v1.23 stopped working because 90% of my mods)
PLUS MORE
This truck is a work in progress, there are some bugs with model but fully Functioning as of now!
i hope you enjoy and give feedback
——————————————————————————
4 New Chassis Added :
Long 6×4
Tri-Drive 8×4
Tri-Drive Mid-Lift 8×4
Tri-Drive Tag-Lift 8×4
Made Custom Cab Marker Beacons.
Added 10 Transmissions.
Added 15 New Engines.
Over 40 Addon Lights Including New Mini Beacon Markers.
20 Bumpers for Truck With tons of Accessory Slots.
Added 2 Visors With Custom Light Slots.
New Cab Panel With Custom Light Slots.
New Tank Lights with Custom Light Slots.
Added New Exhaust: Straight Big Pipe and Angled Big Pipe .
Added 4 New Tires and Made Custom taller Alcoa Rubber.
Added Backside Lights to 2 Cab Variants.
Added Custom Light Slots to Mirrors.
Added Custom Aircleaners.
Added Additional Cab Flares .
Added Aditional Sleeper Lights
New Truck Sound and Jake .
Changed FOV for interior view.
PLUS MORE
—————————————————————————-
This truck is a work in progress, there are some bugs with model but fully.
functioning as of now! i hope you enjoy and give feedback.
—————————————————————————-
MOD CREDITS
Bu5ted
SCS Software
Alcoa
Viper2
Pendragon
Aradeth
PROTEUS
Credits:
SCS Software Alcoa Viper2 Pendragon Aradeth PROTEUS
DOWNLOAD 79.5 MB
https://youtu.be/5MxORjGtPzM