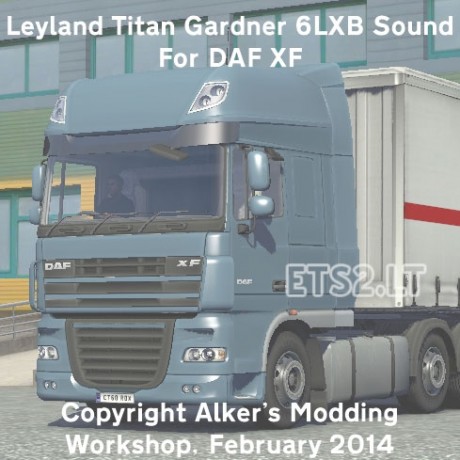 This is my first sound mod for ETS2.
It is the sound of a Leyland Titan bus with a Gardner 6LXB engine,
converted to ETS2.
The sound is for the DAF XF, and is not entirely complete, but will be
for the next version.
You may edit this file only to allow other trucks to use this sound,
and may not redistribute.
DO NOT, UNDER ANY CIRCUMSTANCES, RE-UPLOAD THIS MOD TO ANY
FILE-SHARING SITE THAT PAYS MONEY FOR DOWNLOADS.
MODS ARE MEANT TO BE FREE, I WOULD LIKE TO KEEP IT THAT WAY.
Finally, enjoy!
(C)Joe Alker's Modding Workshop, February 2014
Credits:
Joe Alker
DOWNLOAD 0.24 MB
http://www.youtube.com/watch?v=UsPtIdU9T_g