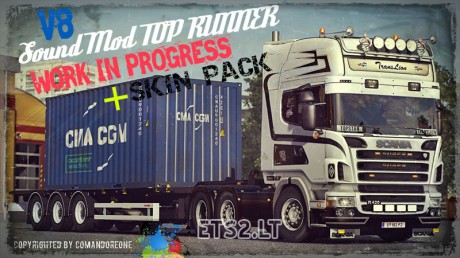 ATENTION WORK IN PROGRESS!!
Hello everyone, so today as i posted over some of forums here you guys
have a late reworked sound mod from Zero the Scania V8 Stright Pipe,
totaly rebuilded and with autentic Scania Sounds from real life.
Each mod just getting better and better closer and closer to real
sound, is hard to make recorded sound sounding in game like you hear
in real life, but i got my tecnique and is resulting, now lets jump in
the video preview of this still WORK IN PROGRESS Mod review, this
sound mod will be working on 50Keda's ScaniaR2008 also will work on
Streamline Scania from SCS and also for Scania R2009 SCS, so prity
much it will cover all scanias that out there, now my side project is
Mercedes Benz Antos Sound Engine and also working on new DAF Sound Mod
all this two sound mods will be stock engines no stright pipes, Daf
Sound Mod will be for 50Keda's New reworked DAF that is at the dore to
relise! Check the SCS Software Forum for more informations and mods!
►Also Get this Skin Pack Right Now As Requested! Works On 50Keda's
Scania R2008.
►Guys any questions feel free to comment and ask also leave your
feedback and your impressions about the mod! And Please if you about
to say any critic please do it constructive and don't need any bad
words, Respect me as you wold like to have same respect for you. Any
badword comment will be delited.
Release Date will be anunced here on comments below.
Thank you all and my Best Regards And Respect! ComandoreOne.
DOWNLOAD 2.7 MB
►Video Review WIP: