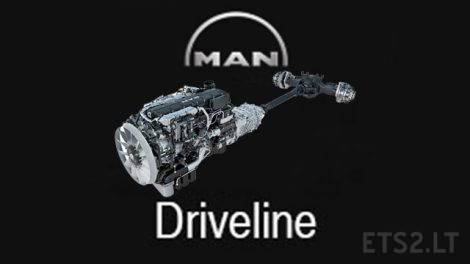 This is a mod that revises the drive train for stock MAN TGX, MADsters TGA, TGS, TGS Euro 6 and TGX Euro 6!
It adds new engines with realistic parameters, gearboxes with realistic ratios and naming, badges and icons
The mod contains:
ENGINES:
D2066
D2676
D2868
D3876
Euro 5 versions for are available for TGA, TGS and stock TGX. Euro 6 Versions are available for stock TGX, TGS Euro 6 and TGX Euro 6!
GEARBOXES:
ZF AS Tronic
ZF TraXon
ZF Ecosplit
and
TipMatic (Scania gearbox)
Gearboxes that can be paired realistically with engines.
All of the gearboxes have multiple ratios. Default ratios should be the best for normal operations, but others are available.
If you want to as much realism as possible, use ZF 16 S gearboxes only with 6×4, 6×6 and 8x* chassis!
Gearbox naming follows this recipe:
ZF 12 AS 2131 DD
12 – Number of gears in the box
AS/S/TX – The type of the gearbox (Automatic/Manual/Automatic(New gearbox))
21 – Max torque that gearbox can handle
3 – revision of the gearbox
0/1 – No/Retarder
DD/OD – Direct/Over Drive
TipMatic 12+2 27 DD
TrpMatic – Scania gearbox
12+2 – Number of gears in the box
27 – Max torque that gearbox can handle
DD – Direct/Over Drive
Euro 6/D38 Badges for stock TGX
It also contains new icons for every engine and gearbox group.
1.9: Fixed sound compatibility for TGA version 1.5
1.8: Fixed sound problem
1.7: Added second generation Euro 6 engines
Added Opticruise transmissions for latest engines
Added new badges for TGX, TGX and TGS Euro6
Special thanks to:
Wilson212 for his amazing app Engine Editor App
Special thanks to MADster for letting me use his Euro 6 and D38 badges!
Credits:
Galimim
DOWNLOAD 24 MB