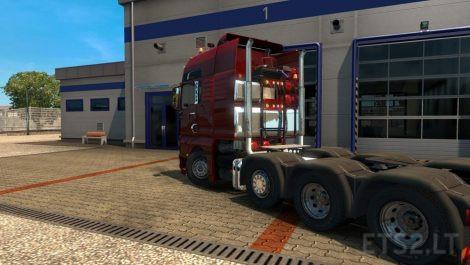 MAN TGX 2010
version: 3.2
Standalone trucks, Sold in MAN Dealer shop.
version ETS2 1.27
What's new in version 3.2
For the new add-on "Heavy Cargo"
Added: Chassis 8×4.
Added: Wide Spoilers only for chassis 8×4 (All Cabins)
Added: b_grill Heavy loads for chassis 8×4 (Black and Colorable)
Added: Equipment rack with additional radiator (water/air,
oil/air) and fuel tank behind the cab. ( three jokes: Black, Paint, Paint+Chrome ).
Added: Three Exhaust behind the cab only for Equipment rack chassis 8×4.
Added: Two rear fenders for chassis 8×4 (Plastic and Paint).
Credits:
XBS
DOWNLOAD 23 MB
https://www.youtube.com/watch?v=1Ab8XbivgVc