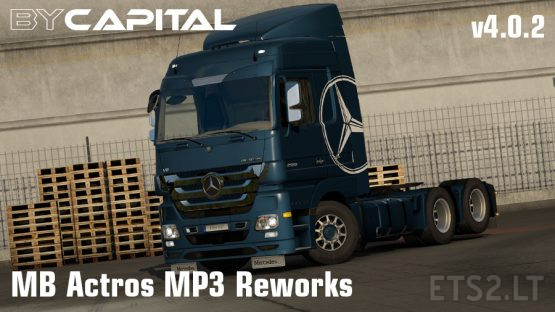 This is my rework of the Mercedes Actros MP3 by SCS.
This mod adds a lot of plastic, painted and chrome parts which you can choose as you like.
It comes with badges for all chassis and engines.
It has all standard chassis plus short 6×2 and 6×4 chassis, three different low deck chassis and 8×4 chassis for Mecaspace and High sleeper cabs.
The mod is for game version 1.35 and above only!
Install by just drop the ZIP-file in your mod folder and activate it in mod manager.
You find templates here: https://sharemods.com/408hwvbw6kp4/MB_Actros_MP3_Reworks_v4.0.2_ByCapital.zip.html
If you own the Actros Tuning DLC you need this compatibility addon: https://sharemods.com/m3jf5p7ojtbs/MB_Actros_MP3_Reworks_v4.0_Actros_DLC_ByCapital.zip.html
Changelog v4.0 to 4.0.2
Adaptations for rigids
Bug fixes
Please don't reupload and do respect the credits.
Credits:
Capital
SCS
Lightmasks for headlights by 50keda
Textures for heavy duty-fenders by Kast
Def-file fixes by CobraBlue6
Credits:
Capital, 50keda, Kast, CobraBlue6, SCS
DOWNLOAD 39.1 MB