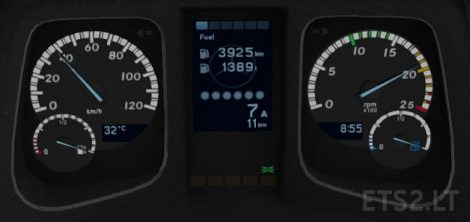 Custom dashboard looks like a realistic (from SCS), but use another font and have dark blue background with Mercedes Logo.
Dashboard gauges have light blue color too. (embedded in automation.sui file).
Also changed icons.dds in interior vehicle folder.
New gear looks with gear number and gear mode (automatic and manual).
I was made it for a two weeks.
Please no request for other color.
For uploaders.
Please keep original link. I want to see, how many downloads will have this mod. Thanks.
Credits:
Piva
DOWNLOAD 873 KB