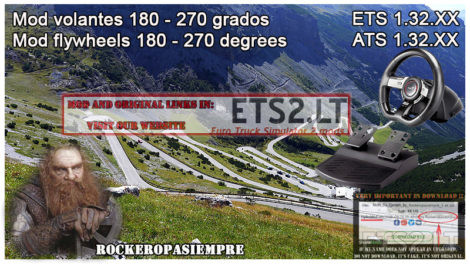 Mod for Steering Wheel of 180-270 Degrees for ETS2 1.32.XX
Description:
Update of this mod for version 1.32.XX of ETS2, also works for ATS 1.32.XX
PROHIBITED UPLOAD THE WORK TO ANY SERVER WITHOUT PERMISSIONS.
This mod makes fliers that are NOT 900 degrees, for example fliers 180 or 270 degrees are much more manageable in the game.
The mod facilitates and smoothes a lot the driving with this type of steering wheels that sometimes have a very sharp turn,
due to the few degrees they have. Important, place the subtype of the controller in "controller".
If it is placed in the "flyer" option, the mod will not take effect.
Remember, the "controller" option, and then place the sensitivity to your liking. For more information,
please follow the video. It has subtitles in English for better understanding of the settings.
Updated the files to this version 1.32.XX
Author: Rockeropasiempre
Weight of the file: 86 Kb
Credits:
Rockeropasiempre
DOWNLOAD 86 KB