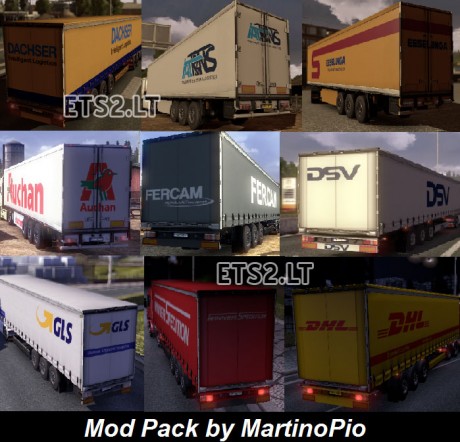 All the trailers of this mod are standalone and they are available in
traffic. The mod works for all versions.
I already have the version v0.3.1! How do I upgrade to version v0.4.2?
You must extract the contents of the zip file in Documents-_ Euro
Truck Simulator 2 -_ mod. You must replace all the files that the
system requires (this doesn't work if you have renamed the name of the
mod).
List of companies:
– Aliberti Trasporti.
– DVS.
– Bartolini.
– Granarolo.
– Auchan.
– LD Market.
– Simply.
– Waberer's.
– Eurotrasporti.
– LKW Walter.
– Fercam.
– GLS.
– Winner Spedition.
– Esso.
– DHL.
– Dachser.
– Esselunga.
– Italtrans.
Credits:
MartinoPio
DOWNLOAD 15.3 MB mediafire
DOWNLOAD 15.3 MB mega.co.nz