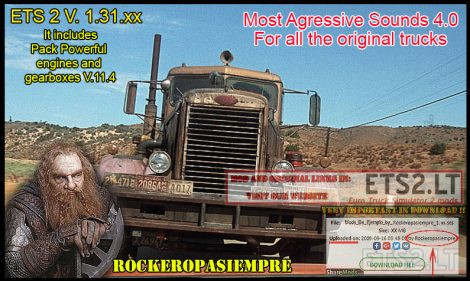 PROHIBITED TO RESUB THE MOD TO ANY SERVER WITHOUT PERMISSIONS.
IMPORTANT NOTE:
All the motors and gearboxes of my mod Pack Powerful engines and gearboxes V.11.4 are incorporated in the mod.
IT IS NOT NECESSARY TO INSTALL THE TWO MODS. IF YOU PLACE MOST AGGRESSIVE SOUNDS, THE ENGINES AND BOXES ARE ALREADY INCORPORATED.
USE ONE MOD, OR THE OTHER, BUT NOT THE 2 AT THE SAME TIME.
Changes in this version:
– Deleted or repaired the obsolete files of the previous version.
– Increase in price of all transmissions for all trucks.
– Fixed emblem of the Iveco Hiway when placing the brutal 500 engine.
Gamelog clean.
Author: Rockeropasiempre
Weight of the file: 209.8 Mb
Description:
What Modifies Most Aggressive Sounds?
– Add Pack Powerful engines and gearboxes V.11.4 complete.
– The mod, modifies the sounds of all the ORIGINAL trucks of the game.
– All the sounds of all the engines and also, outputs and air intakes.
– It also modifies the sound of horns, flashes and switches.
regards
Credits:
Rockeropasiempre
DOWNLOAD 210 MB