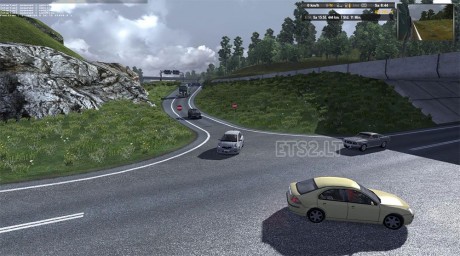 This is the Multi Traffic Mod Version 8 (for Patch 1.13 ff) from TSM User Kilroy.
Included in the mod:
– some Trucks ETS2-141-Realistic-AI-Traffic-Mod-ver-2-by-Scanreg
– some Vehicles from TDU
– some Vehicles from Grand_Canyon_mod
– some Vehicles from Eastern Europe
– Police C-Class
– Sprinter Ambulance
– Ducato Police for all Countrys
– BMW X3/BMW X5/VW-BUS Caravelle, Buli
– Sprinter UPS,TNT,DHL etc.
– Sprinter long version
– include Renault Kangoo
– Changed Light of the vehicles (brighter)
– Changed Speed of the Traffic
– some new PKW
– All Versions from Truck-Traffic und Car-Traffic from Jazzycat
You should only have one traffic mod activated in your profile.
This mod is a private project and we will take no responsibility for any Game Crashes or other problems.
It is forbidden to use this mod for commercial purpose.
It is explicit allowed to have fun with it.
(if we someone have forgotten, please excuse & write us, that we can include him here)
much Greetings
i.O. Kilroy
Credits:
HarryTuttle, Jazzycat, valera_t, AlligatorSE, Scanreg, Georgegold CZ,Jennenz, SCS,Sinclair, nkuh, Atak_Snajpera, Srele,EoF, tacsi68, solaris36. Henki u.a.
DOWNLOAD 1 GB