New Led Colors v 1.0 for Modders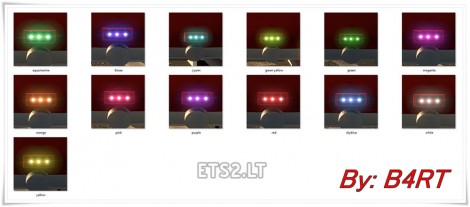 Hello, today I bring one MOD, for those who like to make mods, I adjusted a defs and made a set of LEDs for those who want to use in your MODS. Just add the dummy's as the desired or. In a future update, I will bring LED to the command "TURN LEFT" and "RIGHT TURN" in several colors.
Please do not reupem the file on another server, keep the original link.
FOR USE:
LIGHTS
BLUE LED
[flare.vehicle.bluueledl]
BLUE CYAN
[flare.vehicle.cyannledl]
BLUE AQUAMARINE
[flare.vehicle.aquamledl]
GREEN
[flare.vehicle.greenledl]
GREEN YELLOW
[flare.vehicle.greyeledl]
MAGENTA
[flare.vehicle.magenledl]
PINK
[flare.vehicle.pinkkledl]
PURPLE
[flare.vehicle.purplledl]
YELLOW
[flare.vehicle.yelloledl]
SKY BLUE
[flare.vehicle.skyblledl]
WHITE
[flare.vehicle.whit1ledl]
RED
[flare.vehicle.red00ledl]
ORANGE
[flare.vehicle.orangledl]
Author: B4RT
DOWNLOAD 4 MB
Popular mods