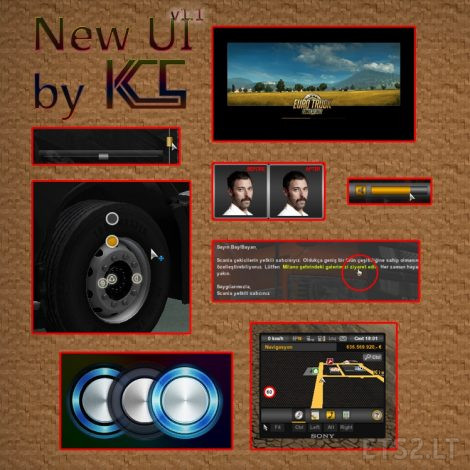 This mode is a tiny mode made for annoying little details. Can be shared as desired as long as it is not re-uploaded. I will be waiting for your comments for suggestions and requests 😉
. : What's New? : .
Version 1.1
ATS and ETS 2 separated because there are minor differences.
Vehicle weight window cleared. (Only ATS)
Fixed plate accessory issue.
Version 1.0
First release
. : Features : .
Branded and cleared route advisor
Cleared in-game windows
New loading screen frame
Realistic dozing texture
Driver's hair in the 84th driver's picture was fixed. (LoL)
Small parts selection points turned from red to yellow on the vehicle edit screen.
The capture button turned from red to yellow on the photo mode.
New cursors (Cursor textures often do not appear because it doesn't load while mods loading 🙁 )
The magnifying glass icon is softened on the workers search screen. (And 1-2 more…)
New sliding buttons
New clicking button
New radio volume slider
New player icon on the map
Removed arrow next to the links.
New "DRIVE" button
New save/load icons
The mode is compatible with almost all ETS 2 and ATS versions.
Credits:
KCS (BCRTVKCS)
DOWNLOAD 3 MB