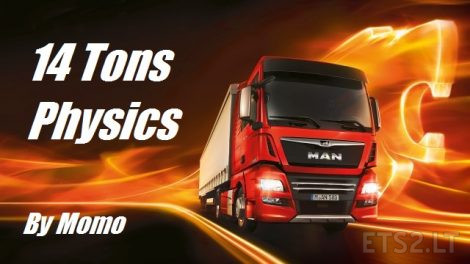 This is my old mod, ported from Steam Workshop. This mod may not be realistic but it's made for people who want to feel a very heavy truck.
FEATURES
– Makes your truck weighs 14 tons (without trailer)
– Improved suspensions & seat movement to be more realistic (more active & movement)
– No changes made to the engine, transmission, clutch, brake.
– New in 1.1 added SCS' new Scania S & R, RJL Scania.
COMPATIBILITY
– Compatible with game patch 1.30.x
– Compatible with all SCS' trucks
– Compatible with SCS's New Scania S & R
– Compatible with RJL's Scania
– Compatible with my Air Ride mods (Air Ride must be higher)
– NOT compatible with any other physics mod.
USE INSTRUCTIONS & RECOMMENDATION
– You should try this mod without any seat mod first to see the effect of this mod. If it's still not enough for you, you can add a seat mod later.
Adjust the following in your option menu:
– Steering sensitivity 100%
– Trailer Stability 0%
– Enable Physics Camera, and give it 100%
USER AGREEMENT
– You are not allowed to re-post by another download link.
– You are not allowed to change the name and re-post.
– Only use my original download link to re-post.
DONATION
Tips are always appreciated.
https://www.paypal.me/aaticha
FOLLOW MY MODS ON FACEBOOK FAN PAGE
"Momo's mods"
https://www.facebook.com/Momos-mods-365686307191461/
Credits:
Momo, Yuna
DOWNLOAD 128 KB