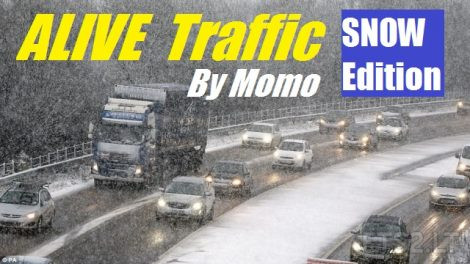 This mod does not include snow. You need Grime's Snow mod or any other snow mod to use along side this mod.
MAIN FEATURE OF THIS MOD
This mod makes all AI vehicles use snow speed 60 – 80 kmh only. To simulate real life traffic in snow. Because in real life no one can drive 100++ kmh in snow. So AI is no more driving 140 kmh in your winter snow.
OTHER FEATURES OF THIS MOD
– Increases maximum vehicle count from 50 (vanilla) to 150.
– Rush hours of morning and evening (Europe not Bangkok)
– Increases green lights in major intersections from 15 secs (vanilla) to 20 secs.
– Increases yellow lights in all intersections from 2 secs (vanilla) to 4 secs.
– Causes very little or no frame rate drop.
COMPATIBILITY & INSTRUCTIONS
– Game patch 1.30 compatible
– All maps compatible
– NOT compatible with any other traffic mod.
– NOT compatible with Jazzycat's vehicles, they will use their original speed. (He has too many vehicles, i am too lazy to change them all).
– Due to nature of traffic mods, it needs high priority, especially higher than map mods.
AGREEMENT
By downloading this mod:
1. You represent that you will not re-post this mod anywhere with another link other than this link.
2. You represent that if you wish to re-post this mod anywhere you will only use this link or links provided by me only.
DONATION
Tips are always appreciated.
https://www.paypal.me/aaticha
FOLLOW MY MODS ON FACEBOOK FAN PAGE
"Momo's mods"
https://www.facebook.com/Momos-mods-365686307191461/
Credits:
Momo, Yuna
DOWNLOAD 81 KB