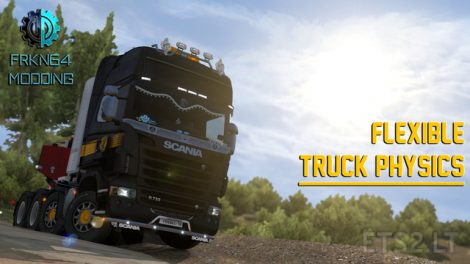 _________________________________________________________
Visit our site to check out our other mods: Frkn64Modding.com
========================================
FEATURES
– More springable and softer truck suspensions
– More shaky truck cab
– More difficult overturning on curvy roads
– Physics is better when you using your truck with a trailer.
– Compatible with current ETS 2 trucks.
– Also, compatible with these truck mods: RJL's Scania R & R-4 – 50keda's DAF XF – Ohaha's Volvo FH 2013 – MADster's MAN TGX Euro 6
———————————-
UPDATE NOTES
v1.6 released. Changes;
– Now compatible with ETS 2 1.31 update.
———————————-
REQUIRED GAME VERSION
v1.31.X
————————————————————————–
Please respect to labor by following these rules;
– Don't edit the mod files without permission.
– Don't change the download link while sharing the mod on another sites or YouTube etc.
– Don't upload the mod to your Sharemods/Modsfile etc. account for earn money.
Thanks in advance.
Credits:
Frkn64 Modding
DOWNLOAD 190 KB