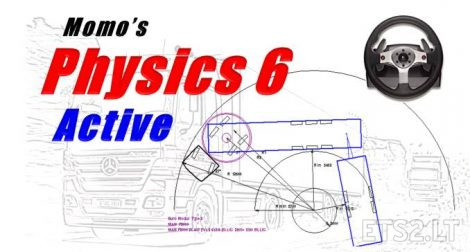 ** THIS VERSION IS FOR STEERING WHEELS **
———————————————————————–
This 6.3 is a super active version of 6.1.
6.3 has everything else the same as 6.1 except 6.3 has a much more active cabin than 6.1.
CHANGES FROM 6.1
– Much more active cabin, but still realistic.
– The cabin now is so active that you don't need a seat mod to help.
– You will feel the active cabin movement with or without a seat mod.
CHANGES FROM THE VANILLA
– Please refer to physics 6.1 description.
USE INSTRUCTIONS & RECOMMENDATION
– You should try this 6.3 without any seat mod first to see the effect of this mod. If it's still not enough for you, you can add a seat mod later.
Adjust the following in your option menu:
– Steering sensitivity 100%
– Steering non-linearity 0 – 75% (0 being quickest/ 75 being slowest)
– Trailer Stability 0%
– Enable Physics Camera, and give it 100%
COMPATIBILITY
– Patch 1.30 compatible
– Compatible with my Air Ride mods.
– All SCS's trucks compatible (including the new Scania S & R)
– RJL Scania R compatible
– RTA Renault Range T 6.2 compatible
– Scania 114L by Tiana95 (4×2 only) compatible
– More modded trucks coming in the future
– Not compatible with other trucks (will not work correcrly)
– Not compatible with other physics mod.
USER AGREEMENT
By subscribing this mod, you have agreed that:
– If you want to re-upload anywhere else, you will use only links provided by me:
http://sharemods.com/0mgv04bhhs5r/physics_6_3.scs.html
DONATION ?
This mod is and will always be free of charge. However, tips are always appreciated.
You can donate by Paypal or Steam Wishlist/Trading Cards.
https://www.paypal.me/aaticha
FOLLOW MY MODS ON FACEBOOK FAN PAGE
"Momo's mods"
https://www.facebook.com/Momos-mods-365686307191461/
Credits:
Momo, Yuna
DOWNLOAD 122 KB