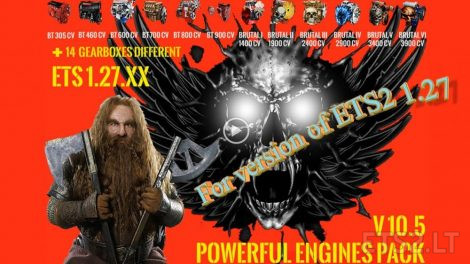 With which trucks can I use this mod ?.
There are 124 trucks adapted to the old version 1.26,
and will continue to work, if you use that version.
You can see the complete list in the file document.txt
that is inside the mod, or in the information of the same
in the mods manager of the game itself.
Changes in this version 10.5:
– Modified all the files of the original trucks of the game
for its perfect operation with the version 1.27.
– All the trucks whose versions belonged to the previous V 1.26,
will continue working perfectly in that version.
– 10 New trucks adapted to version V 1.27:
– F.S.C. STAR 200 – edit by Ekualizer [patch – 1.27.x]
– Kraz 255 Update
– MAN TGA 1.4 by MADster
– Kamaz 54-64-65 only for 1.27
– Cascadia 2018 by Conbar V4.0 for 1.27 of game ETS 2
– Volvo FH 2013 v22.00s [1.27] (Ohaha)
– Volvo FH 2012 v22.00r [1.27] (Pendragon)
– MAN TGX v2.4
– DONG FENG DFL 4521
– Kenworth 521 v 1.1 [1.27]
Credits:
Rockeropasiempre
DOWNLOAD 173.8 MB