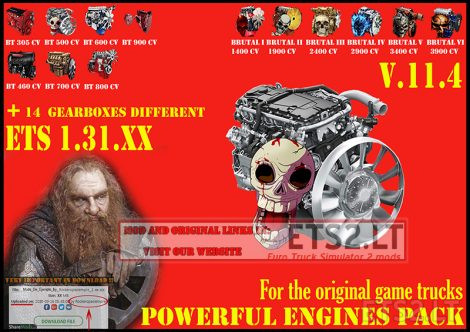 PROHIBITED TO RESUB THE MOD TO ANY SERVER WITHOUT PERMISSIONS.
The video is from a previous version, but it serves to show everything that the mod incorporates. The new changes for this version are detailed below.
Changes in Pack Powerful engines + gearboxes V.11.4 for 1.31.XX:
– Updated obsolete files from the previous version of the game.
– Increase in the price of all transmissions of mod.
– The engines of the 800 and 900 Hp pack have V8 sound for the following truck models:
– Scania R
– Scania Streamline
– Scania R 2016
– Scania S2016
– Volvo FH16 2012
With what trucks can I use this mod ?. THE BOXES AND ENGINES FOR THE ORIGINAL TRUCKS OF THE GAME ARE ADAPTED.
– Daf XF
– Daf XF Euro6
– Iveco Hiway
– Iveco Stralis
– Man TGX
– Mercedes Actros
– Mercedes New Actros
– Renault Magnum
– Renault Premium
– Scania R
– Scania Streamline
– Scania R 2016
– Scania S 2016
– Volvo FH16
– Volvo FH16 2012
Author: Rockeropasiempre
Weight of the file: 174.6 Mb
regards
Credits:
Rockeropasiempre
DOWNLOAD 175 MB