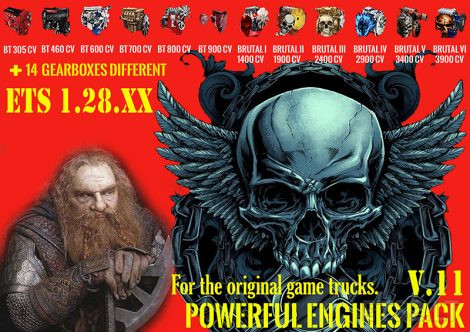 Hi again, everybody.
This time, I bring you the update of the engine package. But it is not like earlier versions, which were used for countless trucks, I have decided to leave them exclusively for the original trucks of the game.
With which trucks can I use this mod ?. ONLY THE BOXES AND ENGINES FOR THE ORIGINAL TRUCKS OF THE GAME ARE ADAPTED.
– Daf XF
– Daf XF Euro6
– Iveco Hiway
– Iveco Stralis
– Man TGX
– Mercedes Actros
– Mercedes New Actros
– Renault Magnum
– Renault Premium
– Scania R
– Scania Streamline
– Volvo FH16
– Volvo FH16 2012
Regards
Credits:
Rockeropasiempre
DOWNLOAD 1725 MB