Trailer Ownership: J&T Indonesian ekspedition skin
this mod works for all standard scs trailers, singles or double trailers.
It works with the 1.32.2.30 and further.
Note :
This skin mod is only for the trailer, for the skin of the truck still under development,
but if you want the beta version, you can directly personal email to: [email protected] to get the mod.
The beta version can only be used for Scania R 2012 trucks and streamline
Credits: Indo_BlackJack
Mod For Indo only : https://asalbongkar.com/j&t_skin_ets2/
Credits:
Indo_BlackJack
DOWNLOAD 6 MB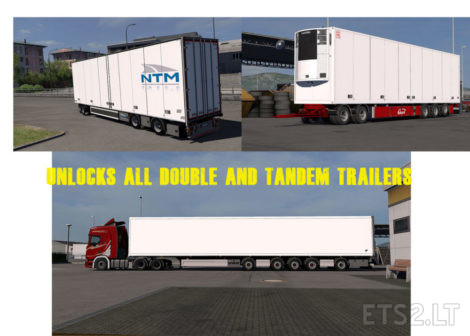 Tested on version 1.33
Unlocks even in all garages
Credits:
SCS, Omenman, Kast
DOWNLOAD 708 KB
Pack adds in traffic 72 sport and super cars:
AC 378 GT Zagato
Alfa Romeo 4C, 8C competizione
Arash AF10
Ascari A10
Aston Martin One 77, DB9 Volante, Rapide
Audi R8, TT
BMW Z3(E36/8), Z4(E89)
Bugatti Veyron
Donkervoort D8 GTO
Falcon F7
Ferrari LaFerrari, 612 Scaglietti, GTC4Lusso, California
Ford GT
Ginetta F400
GTA Spano
Gumpert Apollo N
Hennessey Venom GT
Honda NSX, S2000
HTT Plethore LC-750
Jaguar XJ220, F-Type
Koenigsegg One:1
Lamborghini Gallardo LP 560-4, Diablo, Veneno
Lexus LFA
Lotus Exige S Roadster, Evora
Lucra L148
Maserati Gransport, GranTurismo
Mazda RX-7, RX-8, MX-5
Mazzanti Evantra
Mercedes-Benz SLS AMG GT, SLK(R172), SL(R230)
McLaren 570s, P1
Mitsubishi Eclipse
Mosler MT900
Nissan GT-R, 370Z
Pagani Huayra, Zonda
Peugeot RCZ
Porsche 911(997), 718 Boxster, Carrera GT
Rezvani Beast Alpha
Savage Rivale Roadyacht
Sbarro Alcador
Spada Vetture Sport Codatronca
Spyker C8 Aileron, C12 Zagato
Toyota GT86, Celica, Supra
TVR Sagaris
Vencer Sarthe
W Motors Fenyr Supersport
Wiesmann MF3
Zenvo ST1
All standalone.
Works on any maps.
Compatible with AI packs by Jazzycat.
For version 1.33.x
Included two versions: for use only with default traffic and for use with Jazzycats AI pack.
You must have in mod folder two files:
sport_cars_traffic_pack_by_TrafficManiac_v2.8base.scs
and
sport_cars_traffic_pack_by_TrafficManiac_v2.8def.scs (only with default traffic)
or
sport_cars_traffic_pack_by_TrafficManiac_v2.8jaz.scs (with Jazzycats AI pack)
If you want to have many sport cars everywhere use only one file:
sport_cars_traffic_pack_by_TrafficManiac_v2.8base.scs
Version 2.8 – added Jaguar F-Type, Lotus Evora, Pagani Zonda.
Credits:
TrafficManiac

Works On All trucks
credits: samet arıkan
tested version : 1.33
Credits:
Samet Arıkan
DOWNLOAD 13 MB
Includes 67 French-based company skins for trucks only.
Official topic for additional screenshots and comments:
http://forum.scssoft.com/viewtopic.php?f=37&t=215047
Tested on ETS2 1.33.
Credits:
Eskolaite, SCS, ETS2Studio, MDModding
DOWNLOAD 9 MB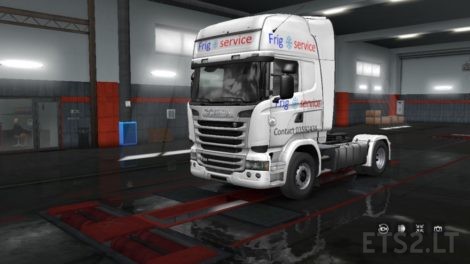 This skin is for Scania StreamLine
And it is for all cabs
Credits:
Flaviu_Gamer12
DOWNLOAD 21 MB