An another Würth skin to the pack.
This time it is a double pack as it is containing skins for Volvo FH16 2009 and skins for Volvo FH 2012 too. All cabins are skinned, all of the skins are compatible with the Wurth skins uploaded before and of course skinned abasstreppas wheels and hubs( for Volvo& DAF only), also if you have obelinho's Kelsa illuminated nameboxes you will have them skinned too, enjoy.
These mods are (and will be)always free, but if you would like to keep me more up at night (or like these mods, or whatever other reasons) you can help me by donating at PayPal.Me/Vandall RTR , anyway is greatly apperciated, thanks.
PS: An please respect my work and don't copy, edit or reupload it, thanks again.
Credits:
tyb33rk, obelinho, abasstreppas, SCS
DOWNLOAD 494 KB

YOUTUBE: https://www.youtube.com/c/cyrusthevirus_mods SUBSCRIBE!
INSTAGRAM: https://www.instagram.com/cyrusthevirus_mods
SUPPORT ME WITH A SMALL DONATION: www.paypal.me/cyrusth3virus
MOD PROTECTED BY CREATIVE COMMONS LICENSE V4.0.
https://creativecommons.org/licenses/by-nc-nd/4.0/
YOU CAN SHARE FREELY BUT ONLY USING THE ORIGINAL LINKS.
UPLOAD THE FILES TO OTHER SERVERS IS NOT PERMITTED.
SCANIA LUPAL & TRAILER OWNED
Mod updated to ETS2 1.34.x.
IMPORTANT: Disable advanced coupling feature in game options to mod work properly. With AC activated, it's too difficult to hook the trailer…but possible. Are you able? 😉
Fixed all shadows.
Improved lights.
New cargos.
Few corrections in 3D models of cargos.
Trailer ownable & freight market.
Added air horn.
Trailer with liftable axles.
Added companies from latests DLC to load and unload.
Please inform about bugs/errors. Thank you. [email protected]
Enjoy it. 🙂
MOD PROTECTED BY CREATIVE COMMONS LICENSE V4.0.
https://creativecommons.org/licenses/by-nc-nd/4.0/
YOU CAN SHARE FREELY BUT ONLY USING THE ORIGINAL LINKS.
UPLOAD THE FILES TO OTHER SERVERS IS NOT PERMITTED.
Credits:
CyrusTheVirus, KAIFARIKI, Kriechbaum, Chudy, OveRTRucK, Pawel, Eed123, MMA, Molotov, Jon-Ruda, Ahaneim, Mr.Poland, Fenix.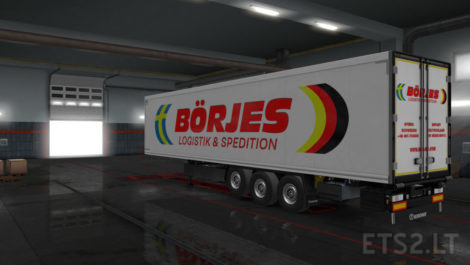 Börjes Logistik skin for KRONE COOLINER.
KRONE DLC NEEDED.
Enjoy!
Credits:
SCS, RmCr
DOWNLOAD 254 KB

RHP v.0.3 for ETS 2
– The full name of the mod is "Real Hard Parking". Addition complicates parking a trailer on the base. Recycled with consideration of DLS: "Special Transport", "Heavy Cargo Pack", "High Power Cargo Pack", "Going East", "Scandinavia", "Vive la France", "Italia"
Now the territory of the Companies is not an "airfield" where you can deploy the aircraft … In some Companies, sometimes it will be impossible to park according to the Rating because A truck or trailer may be in the way. However if become overnight, then in the morning the situation may change!
– The "RHP" mod is compatible with the "Animated Gates in Companies v 3.0" mod by Schumi
– Information on the development of fashion:
I master the modernization of territories gradually and I will periodically post updates. Previous versions of the mod affected the entire map, since this version of the mod makes changes only in the bases.
Missing DLS cards will be recycled as they are purchased. When all bases are captured, the mod will wear v.1.0 index.
– Errors:
If you find errors, please write to me in a personal, Steam or electronic (preferred language of communication is Russian or English). Major errors can be with collisions (objects pass through) and non-standard trailers (iz-for large dimensions, it may be difficult to enter or leave the territory), because All measurements were made by eye and with the help of the Editor line.
Current Steam version 1.34
Special thanks for the help in implementing the new version of the Schumi mod
It is forbidden to spread on truck-sim.club
If you liked the addition, you can support the idea financially.
Yandex.Money Wallet: 410011362754342
WebMoney: Z506212235871; E295004615366; R237127917407
Credits:
SCS Software, Holodok, Schumi
DOWNLOAD 14 MB

Paint the truck in two versions: metallic and automotive paint. The archive contains 2 files. Just transfer them to the MOD folder and plug in your game.
Credits:
JB2
DOWNLOAD 79 MB
This mod works on a truck Scania Next Generation
Replaces Unique interior.
This interior is a pleasant combination of Red-Black color with elements of carbon inserts.
Namely, the finish on the doors and the dashboard, as well as the Unique steering wheel, New lighting dashboard.
Changed and other little things.
Credits:
hadrian
DOWNLOAD 2 MB