ETS2 mods / Euro Truck Simulator 2 mods

Mod update.
DO NOT UPLOAD THE MOD TO ANOTHER SERVER. PLEASE, RESPECT THE ORIGINAL LINK OF THE AUTHOR.
Description:
– Detailed mod information in the game mod manager.
– Touch all general light intensity, both AI, and environment.
– Led's traffic lights.
– Added led traffic lights for all countries.
– Greater definition of all light effects of AI traffic.
– Greater definition of general light effects.
– Greater intensity and definition of headlights and brakes, cars, buses and trucks.
– Greater angle of light on the road, of headlights of vehicles and trucks.
– Increased the beam of flashing light of vehicles and trucks.
– Increased saturation of red and blue colors of vehicles guide and police.
Changes in Version 2.7:
– New textures with glass relief for the LED's of the traffic lights.
– Decrease in the overall light intensity of traffic lights.
– Decrease in the external bloom of semaphore LEDs.
– Conversion of the new pmg files.
– Adaptation of the files to version 1.36.
– Compatible with all Dlc's.
File weight: 2.4 Mb
Testers: Cupid, Saquer, Chuzo, Salsambo, TurkishTron, Rockeropasiempre.
Credits:
Credits: SCS Software, Barmaley, Rockeropasiempre.
DOWNLOAD 2 MB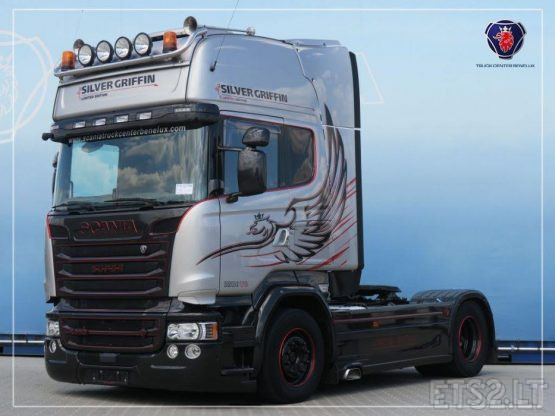 Compatible 1.36
Hi guys this mods change scania
rjl,r2009,streamline v8 sounds with
real v8 engine sound
exhaust,engine,retarder,engine brake,horn
and many sounds change
interior engine sound adjusted.
engine and exhaust sound changed.
Have fun.
Voith.
Credits:
voıth
DOWNLOAD 4 MB
This is a (not so) accurate replica skin of the Scania R of the company 'Rizzo Trans'. 4K, uncompressed, paintable. Only for DX11!
Credits:
TheNuvolari
DOWNLOAD 666 KB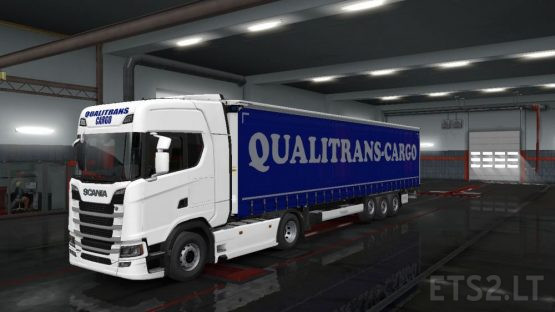 Tested Version 1.35
Trailer required Krone DLC
Pls keep original download link & not re-upload!
Thx
Credits:
Nedi
DOWNLOAD 74 KB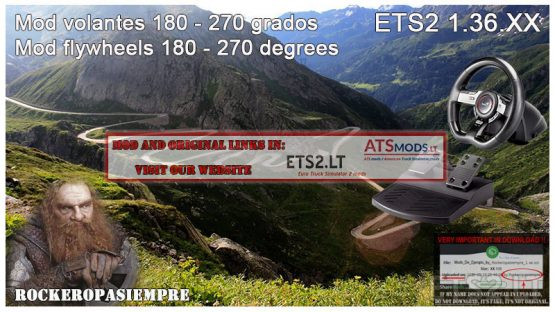 Mod for Steering Wheel of 180-270 Degrees for ETS2 1.36.XX
Mod update.
Attention, now the same mod is not used for ETS2 and ATS.
The mass and damping values change, so I had to create a
different version for American Truck.
The mod, you can find it on the page of ATS mods,
or in the description of the video.
DO NOT LOAD THE MOD ON ANOTHER SERVER. PLEASE, RESPECT THE ORIGINAL LINK OF THE AUTHOR.
Description:
Update of this mod for version 1.36.XX of ETS2.
This mod makes fliers that are NOT 900 degrees, for example fliers 180 or 270 degrees are much more manageable in the game.
The mod facilitates and smoothes a lot the driving with this type of steering wheels that sometimes have a very sharp turn,
due to the few degrees they have. Important, place the subtype of the controller in "controller".
If it is placed in the "flyer" option, the mod will not take effect.
Remember, the "controller" option, and then place the sensitivity to your liking. For more information,
please follow the video. It has subtitles in English for better understanding of the settings.
Updated the files to this version 1.36.XX
Weight of the file: 55 Kb
Credits:
Scs, Rockeropasiempre
DOWNLOAD 53 KB
Please no re-upload.
Keep original download link!
Tested Version 1.35
Credits:
Nedi
DOWNLOAD 337 KB