View Mods Categories >>
Mod of trailers with skins of logistics companies.
In the package 106 company, 23 cargo and 32 skins on 5 trailers
(Profiliner, Schmitz Universal, Fridge, Coolliner and Container):
– Alta-Trans
– Autolight Express
– Beef-Trans
– C.H. Robinson Worldwide
– DB Schenker Logistics
– DHL
– DSV
– Echo Global Logistics
– EuroTruck
– Express Trade Capital
– FedEx
– Fesco
– Gefco
– Kuehne & Nagel
– M-Transline
– Profi Cargo Service
– Royal Cargo
– TransContainer
– UPS
– Autologistic
– Autotrading
– Autofors
– Baikal-Service
– Vash gruz
– Vezu vse
– Business Line
– ZhelDor
– Whale
– Mitridat Odessa
– PEC
– Sovtransauto
– Energy
Changes in version:
1. Replaced the files "PMG" on all trailers.
2. All files "chassis.sii" are rewritten.
3. Added animation of the hitch.
All trailers are autonomous and included in the traffic.
For version 1.31
Authors: SCS, Omenman
WARNING:
When placing the mod on other sites, save the author's link!
Using skins for other mods is forbidden!
Godspeed!
Credits:
SCS, Omenman

Aradeth's VNL 670 in its 1.5.3 revision. Updated dealer config and added trailer cables for use in ETS2 1.31.x ONLY!
No new stuff otherwise.
Excerpt from the original mod:
– 12 different chassis.
– Volvo, Cat, ISX, Cummins, Paccar engines with own sounds.
– I-Shift, Eaton Fuller, Allison transmissions.
– 5 different interiors with 900 and 1800 degree steering wheel support.
– Full animation support.(Wheel, gps, transmission, pedals, indicators, sticks, tv etc.)
– Standalone and available in quick jobs.
– Compatible with all DLCs.
– A wide variety of exterior/interior customization options.
(Overall 300+ different options on 60+ different parts of the truck, plus lots of accessories.)
Credits:
Aradeth, Kriechbaum, Piva, ohaha, RJL, AlexeyP, Martinezio, Ventyres, ZilpZalp, Nordisch, cZak, Samson, Scania124L, loogie, kamaz, Snekko, TruckManiac, Malcom37, Peerke 145, vovangt4 ,AU44, None, Big Bob, SCS, updated by TomDooley, Conversion to Ets2 by Jorgent97
DOWNLOAD 167 MB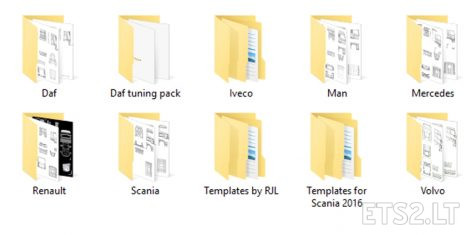 Hello, I want to offer you a 4096×4096 tractor template
The package contains the following syllables:
Templates for all tractors would be SCS + new Scania R & S 2016
Templates would be RJL (Scania rs, Scania T, Scania r4, Scania t4 and Sisu.
Template for Scania 143m by Ekualizer
Credits:
Honza_CZ, SCS, RJL, and more
DOWNLOAD 230 MB
Truck converted from ATS to ETS2 for those who wish to drive the T680 & T880 in the European roads.
Truck should be free of errors, remove any outdated mods that might conflict with this mod.
Have fun.
Credits:
TomDooley, SCS, 349hugo, Aradeth, Pendragon, Viper, Ohaha, Solaris36, GT-Mike, Shine2044, CH_Vitalik/Dmitry68/Kirilloid22/Gosh
DOWNLOAD 109 MB
Scania New Generation Truck Skin.
Don't re-upload
Keep link original while sharing.
Discord: https://discord.gg/4EExzm3
YT: https://www.youtube.com/channel/UCdjWF8k0cUe_sWZ6thDsdIQ?view_as=subscriber
Credits:
Anel Hadzyc and BE Gaming
DOWNLOAD 21 MB

*Cabin DLC Added.
*Errors Fixed.
*The cameras were corrected.
*Cockpit Glass Shine Reduction Corrected.
*The suspension is fresh.
– DO NOT EDİT
– DO NOT COPY
– DO NOT SHARE WITH YOUR OWN LINKS!
– DO NOT FIX
– NO PERMİSSİON!
– EDİT AND EDİT BANNED!!!
– This production belongs to me!
Credits:
Model: Can SKMN
Editing and Parts: Yavuz Selim Mağdala
Rims: Yavuz Selim Mağdala
Credits: Comodore(alperen39)
Game version 1.31.x and works fine
Credits:
Comodore(alperen39)
DOWNLOAD 44 MB