Pack adds in game 78 railway cargoes.
New cargo added to 49 companies for Default Map, DLC Scandinavia, DLC Vive La France, DLC Italia, Rus Map, EAA Map.
All standalone.
Works on any maps.
For version 1.32.x
Compatible with all my packs.
Included english and russian versions.
For english version you must have in mod folder two files:
railway_cargo_pack_by_Jazzycat_v1.8.6_base.scs
railway_cargo_pack_by_Jazzycat_v1.8.6_eng.scs
If you're using mods, replacing default trailers, correct work of pack not guaranteed.
Version 1.8.6 – pack adapted for patch 1.32.x
Credits:
Jazzycat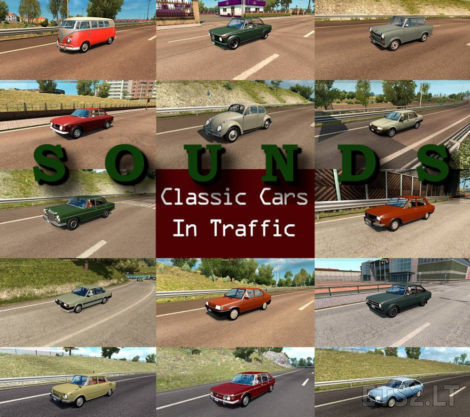 Personalized sounds for Classic Cars Traffic Pack by TrafficManiac v1.5
place my mod above the main mod that you can find here:
https://ets2.lt/en/classic-cars-traffic-pack-by-trafficmaniac-v-1-5/
Credits:
Cipinho, TrafficManiac
DOWNLOAD 11 MB

PLEASE READ – To use this mod, click on the download link to sharemods below and download the file. Once downloaded it will be a direct internet shortcut to the Axo Haulage Skinpack on the Steam workshop. Then subscribe, rate up and favourite the mod there. Then go into your game, mod manager and enable the skinpack. Enjoy.
Join my Discord channel: https://discord.gg/GXDvKWT
Donate here: https://www.paypal.me/victorse
Like my FB page: https://www.facebook.com/Victor-SE-Graphic-Design-2172437999638177
Follow me on flickr: https://www.flickr.com/photos/[email protected]/
Axoman's YT: https://www.youtube.com/channel/UCS9S5YoQtDX9kxqwQ-M0nJA
Join the VTC: https://trucksbook.eu/company/24723
See my thread: https://forum.scssoft.com/viewtopic.php?f=37&t=256342
-Axo Haulage LTD Skinpack-
___________________________________________
-The skinpack includes skins for:
–Scania S Normal, Highline and 8×4;
–All owned trailers except for flatbeds
___________________________________________
-Credits:
–SCS Software – This awesome game and Wiki sources
–Marin Malnar – ETS2 Studio
–Various textures from all over the web
–Various font types from all over the web
–VictorSE – Creating this skin
–Axoman Gaming – Video Showcase & skin made for him
___________________________________________
-Programs used:
–Photoshop CC 2015
–ETS2 Studio
___________________________________________
-Don't forget to Subscribe, Rate and Favourite this skin!
___________________________________________
-If you have any issues with this skin, add me on Steam and send me a message, my profile is public!
–I am always opened to suggestions!
___________________________________________
-YOU ARE NOT ALLOWED TO UPLOAD THIS SKIN ON OTHER SITES, I DON'T GIVE PERMISSIONS!
Credits:
VictorSE, Axoman Gaming YT
DOWNLOAD 155 B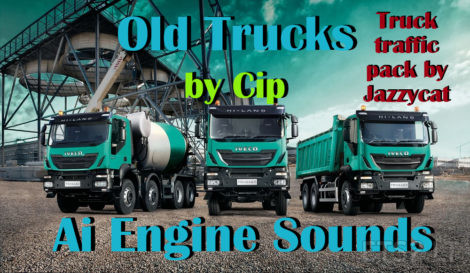 Jazzycat truck pack is one of the best traffic pack mods, a must have if you like to see more truck models in your game and especially old trucks.
besides personalized sound for all trucks in this pack, I increased the spawn of the old trucks and I adjusted max_speed and torque for some trucks.
according to the game version you are playing you must have the following mods in the following order :
for game version 1.32:
1. Old Trucks Ai Engine Sounds for Jazzycat truck pack 3.1.1 (unpack my archive)
2. Truck Traffic Pack v3.1.1 for 1.32: viewtopic.php?f=177&t=136930&start=350#p981532
for game version 1.31:
1. Old Trucks Ai Engine Sounds for Jazzycat truck pack 1.31 addon
2. Old Trucks Ai Engine Sounds for Jazzycat truck pack 3.1.1
3. Truck Traffic Pack v3.1 for 1.31: viewtopic.php?f=177&t=136930&start=330#p925533
if you want to keep the default spawn by jazzycat you could remove the folder def/country from my base mod
this pack includes few sounds from Drive Safely's pack Sound Fixes, mostly sound horns for which I offer to him well deserved credits in my mod
Credits:
Cipinho, Drive Safely, Jazzycat
DOWNLOAD 25 MB

So, what is this mod, you might ask.
This mod adds a crapton of new B-double trailer combos, allows flatbed to be used in doubles (both types), adds aero trailer in B-double (not customisable except wheels), some triple trailer configs and
adds and allows for some accesories for trailers which normally cannot be used on them.
This mod is also (in theory, can't test yet) useable with TruckersMP's Multiplayer Mod.
You can enable this mod, buy whatever you need for your trailer, and disable the mod again and everything you bought still works.
Single Trailers:
2 Axles [B] B-Trailer
2 Axles Spread [B] B-Trailer
3 Axles [B] B-Trailer
3 Axles Steer [B] B-Trailer
3 Axle Standard trailer with rear hook
B-Doubles:
2 Axles [B] + 3 Axles Standard
2 Axles [B] + 3 Axles Spread
2 Axles [B] + 3 Axles Rear Wheel Steering
2 Axles [B] + 3 Axles Aero (Aero trailer does not support paintjobs, and does not allow for any customisation except wheels)
3 Axles [B] + 2 Axles Spread
3 Axles [B] + 3 Axles Rear Wheel Steering
B-Triples:
2 Axles [B] + 2 Axles [B] + 3 Axles Standard
3 Axles [B] + 3 Axles [B] + 3 Axles Standard
B-Double + Drawbar Trailer:
3 Axles [B] + 3 Axles Standard + 2 Axles Spread Center Axle Trailer
All B-Double and Semi Trailer + Drawbar Trailer Doubles are available with flatbed options for the semi trailer ONLY. These are available as a body selection for the BOX trailers, NOT the flatbed.
These flatbed configurations have one flatbed trailer and one box trailer of your choice and transports flatbed loads only. Cargo is visible on the flatbed.
To use special accesories, select the point at the front trailer, select the accesory you want (for example rear beacon) and the REMOVE or replace the selected point again.
Otherwise, you will not be able to buy the trailer. This is a system based on Forerunner's Additional Customisation Mod for trucks and works basically in the same way.
It is your own responsibility to follow the rules set by the TruckersMP team if using this mod in multiplayer.
You MAY NOT re-upload this mod ANYWHERE.
Credits:
Smaen
DOWNLOAD 463 KB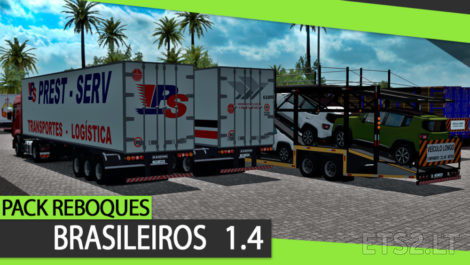 The mod is compatible with ets2 1.32
trailer purchase available
freight market included
cargo market
compatible with original map, rbr, RC BRASIL, eldorado, Rotas Brazil
Credits:
LPMODS
DOWNLOAD 368 KB