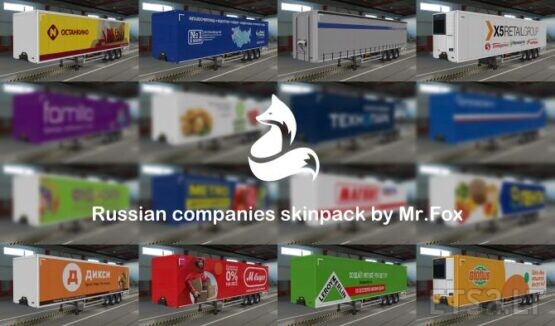 -added 5 new skins(Martin, Our bird agro-Belogorye, Lamoda, Shishkin forest);
-reworked 2 skins(Ozon, Lerua Merlin).
Pak skins of Russian companies for your trailer (50 pieces).
Autonomous.
The set includes skins of the following companies:
-Auchan;
-Eldorado;
-M Video;
-Perekrestok;
-Pyaterohka;
-Metro;
– Ikea;
-Carousel;
-Sportmaster;
-Post of Russia;
-Magnet;
-Dixy;
-Obi;
-Lenta;
-Hoff;
-Your house;
-Furniture of furniture on March 8;
-Billa;
-O'Key;
-Leroy Merlin;
-Read-city;
-Artis;
-Anderssen;
-Technosila;
-Old Hottabych;
-Alphabet of taste;
-Globus;
-Familia;
-Technopark;
-MebelGrad;
-Victoria;
-Fix Price;
-Mnogo Mebeli;
-Castorama;
-Food City;
-Lazurite;
-Miratorg;
-X5 Retail Group;
-Lada;
-Wildberries;
-Morozko;
-Ostankino;
-Ozon;
-Ochakovo;
-Metalprofil;
-Martin;
-Our bird;
-Agro-Belogorye;
-Lamoda;
-Shishkin Les..
VK group: https://vk.com/ets2foxworkshop
Credits:
Mr.Fox
DOWNLOAD 40 MB
DOWNLOAD 40 MB [mirror]