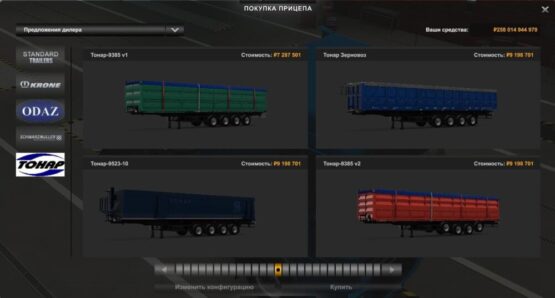 Adds a pack of tonars for Euro Truck Simulator 2 to the game
Mod features:
Bought in modifications – "TONAR"
Mini tuning
2 Chassis
Work lighting
Working loads – all options.
Latest changes in v3.0a:
New version of 3D Model "PMG" (SCS Blender Tools)
Added Tonar Grain carrier on the chassis.
Added Tonar 9523-10 to chassis.
Added support for painting on all tonars.
Full optimization of all 3D Models.
The log in the game is clean – 100%
Test on ETS2 version: 1.45.x.
Will work on previous versions too!
Attention:
Other tonar models will be added.
Collaboration: AJIEHA
Author: Master_Yoda, M@x_1996.
Author of corrections and conversion: Master_Yoda.
Update v3.0a: Master Yoda.
Credits:
Master Yoda.
DOWNLOAD 19 MB
DOWNLOAD 19 MB [mirror]