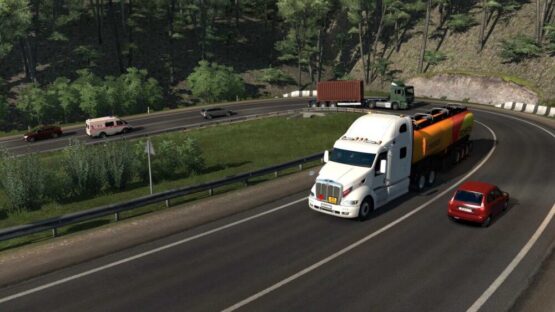 Changelog v1.3.48
Minor changes definition for update 1.48;
Corrections to the registration of headlights (the position of the light sources has been changed to prevent glare on plastic bumpers);
Updated registration of items from the Steam inventory;
Added animation of automatic transmission selector button indicators;
In the registration of interior options with automatic transmission, requirements have been added for compatibility with ONLY Eaton Autoshift/Ultrashift automated transmissions (it is recommended to visit a service station).
Standalone;
3 cabins;
9 chassis;
Support for advanced coupling;
Cable support;
7 engines
26 gearboxes Mack mDrive, Allison, Eaton Fuller and Meritor MaxiTorque;
All engines and gearboxes with original parameters
Files/addons in the archive
Peterbilt_387_v1.3.148_ets2.scs truck
Peterbilt_387_v.1.3.148_addon_ETS2_mirrors_FOV.scs Place addon for hood mirrors in ETS2 above all mods
Peterbilt_387_v.1.3.148_addon_license_plates_EU.scs Addon adds European license plates
Peterbilt_387_v.1.3.148_addon_license_plates_US.scs Addon adds American license plates
Peterbilt_387_v.1.3.148_addon_camera_SMRC.scs walking camera (for amateurs)
Peterbilt_387_v.1.3.148_SMP_compatibility.scs Addon that adds support for SiSL's Mega Pack
Peterbilt_387_v.1.3.148_addon_DLC ST_ets2.scs adds compatibility with the Special Transport DLC
Peterbilt_387_v.1.3.148_addon_DLC Goodyear_ets2.scs adds compatibility with DLC Goodyear
Peterbilt_387_v.1.3.148_addon_DLC Michelin_ets2.scs adds compatibility with DLC Michelin
Peterbilt_387_v.1.3.148_addon_DLC CA_ets2.scs adds compatibility with DLC Cabin Accessories
Peterbilt_387_v.1.3.148_addon_50 skins pack by MuhaBZzz.scs Skins pack by MuhaBZzz
Credits:
Ch_Vitalik is an external model.
Kirilloid22 – refinement of the external model, external tuning, sounds, textures, refinement of the bortovik.
Dmitry68 – engines, gearbox.
Gosha Motor – interior, alteration of textures of an external model, tuning, wheels, animation (completely new).
Solaris36 – US and Canada license plate models.
vitalik062 – a set of registration license plates of different countries of Europe.
il_86 – update the mod to the current version of the game, bug fixes, revision.
DOWNLOAD 153 MB