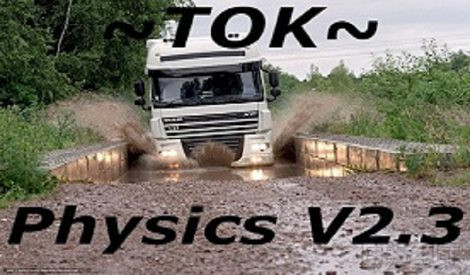 Description:
-Realistic physics of the suspension, cab, transmission, brakes, pneumatic seat, cameras in the cabin.
-Supports all default tracks, as well as Kamaz. 6460, Scania, Renault rs integral Renot, Scania. 114, Mitsubishi FusoSuper Great V.
-Changes in v2.3:
-Management: added sensitivity, increased the return rate steering, increased rotation angles of the wheels at 1 degree (in steep turns easier to enter).
-Brakes: adjusted the intensity of cooling degrees, revolutions.
-CAB: corrected a slow pitch, dampirovanie, angle forward during braking, stabilizer.
-Adjusted the revs during acceleration, changed the razvesovku axes (chassis), made of softer rear axle (s), small changes pneumatic seat.
_________________________________________________________________
-For those who are not a fan of changes in governance, in archive
There is a second file with a standard Office
(Physics_of_the_truck_V 2.3 _standard_control_from_ Tok ~ ~).
Test version 1.30 x
-Author: ~ Tok ~
-Installation:
-Place the Mod folder, connect to the Manager mods.
-Put the above modified trucks.
-Keep the original links! Respect the author's work!
Credits:
~Tok~
DOWNLOAD 235 KB
DOWNLOAD 235 KB [mirror]