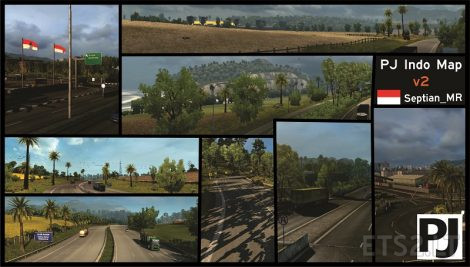 Changelogs:
– Compatible for version 1.31.
– IMPROVED WHOLE AREAS in northern part (left-side traffic).
– Added more new Indonesian signs and navigations.
– Added more enchanted vegetations and fields.
– Few Bugs fixed.
Note:
– Not require all maps DLC.
– This map can be combined by other add-on maps (ProMods, RusMap, Project Balkans, TSM, EAA, etc.)
– More information look at the readme.
Hope you like and enjoying this mod without any problems. Thank you!
Special thanks to:
Euro Truck Simulator 2, all mods inspiring me, all of comments & suggestions, and more.
Credits:
Septian_MR