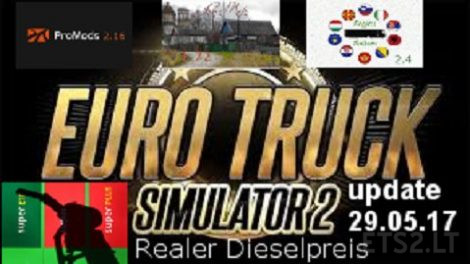 This mod is designed for maximum realistic simulation purposes.
I like to play real, so I wrote some mod for help.
ETS2 version 1.27
DLC: Going East – Scandinavia – Vive la France
Maps: Promods 2.16 – Rusmap 1.72 – Projekt Balkan 2.4
Trailers: all Jazzycats, Promods TCP 1.13
mods: all pvhmodding
http://pvhmodding.de.tl/
Albania Andorra Austria Belarus Belgium Bosnia Bulgaria Croatia Cyprus Czech Denmark Estonia Faroe Finland France Germany Greece Hungary Iceland Ireland Isle of main Israel Italy Jersey Latvia Lebanon Liechtenstein Lithuania Luxembourg Macedonia Montenegro Moldova Netherlands northernIreland Norway Poland Portugal Romania Russia Serbia Slovakia Slovenia Spain Sweden switzerland Turkey United Kingdom Ukraine..
Please do not upload to other sites, Without permission of the builder
Update 1.4.6
-Aktuelle Dieselpreise vom 29.05.2017
-Alle Preise in Euro
Update 1.4.5
-Aktuelle Dieselpreise vom 22.05.2017
-Alle Preise in Euro
Update 1.4.4
-Aktuelle Dieselpreise vom 15.05.2017
-Alle Preise in Euro
Update 1.4.3
-Aktuelle Dieselpreise vom 08.05.2017
-Alle Preise in Euro
Credits:
http://pvhmodding.de.tl/
DOWNLOAD 29 KB