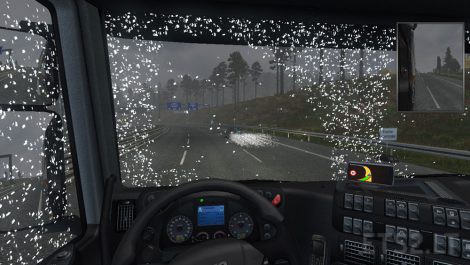 Changelog:
– Increased/doubled Snow particles count on wheels
The Key Features are:
– Snowfleets
– Removed Rainstripes
– "Auto Blink off" is set to 20% of Steering Wheel Range instead
of
27%
– Changed Behavour of the Snowfleets, (longer Lifetime, Slow
Moving,
no Splash Effect, Almost no deformation of the fleets)
– Snow particles on wheels
Note: For ETS2 1.25x users I recommend Frosty Winter Mod
ETS2 1.26x users have to wait for updated Wintermods
This Version of Real Snowfall for Wintermods is tested on 1.25 and
1.26 of ETS2
P.S. I'm sorry for not crediting Piva for his work on his Snowfall
Mod: https://ets2.lt/en/snowfall-for-winter-mods/. Real Snowfall for
Wintermods is based on his groundwork.
Thank you for your awesome work Piva!
Credits:
OptionalJoystick, Piva
DOWNLOAD 80 KB