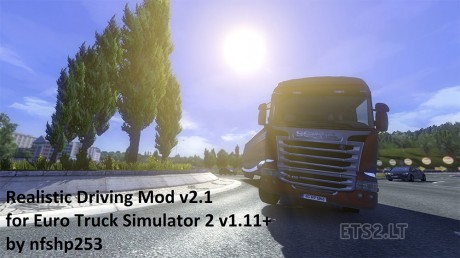 To coincide with the public release of ETS2 v1.11, a new version of my Realistic Driving Mod (aka Realistic Physics Mod) is now released. Version 2.1 includes numerous changes which are extremely crucial in improving the driving experience in-game. The name was once again changed for this release as Realistic Driving Mod is a more appropriate name that accurately reflects the changes to the game values that this mod contains. For those who are new to this mod, this mod features:
-> New accurate and true-to-life engine options including the new Mercedes-Benz Actros MP4 4163 SLT OM 407 625HP/3000Nm engine option
-> 50+ new model-specific gearboxes (ZF AS Tronic, ZF Ecosplit, Volvo I-Shift, Scania Opticruise, Mercedes-Benz Powershift…) with and without retarder + with and without overdrive ratios for a better driving experience for different engine powers
-> Adjusted truck chassis suspension travel to allow for more travel at the front axles
-> Corrected all truck chassis weights to allow for improved and more accurate truck acceleration (default values were over-exaggerated by about 2-4 tons)
-> Softened front and rear truck chassis suspension to allow for a softer and smoother ride
-> Softened truck cabin suspension to allow for more controlled pitch and roll
-> Reduced limits of cabin pitch and roll angles to ensure that truck model does not collide with itself and is more true-to-life
-> Softened trailer suspension for more realistic roll and roll-over scenarios (*Please set the trailer stability to minimum for better gameplay)
-> Increased steering angle to a more accurate 38 degrees
-> Reduced anti-sway bar value to allow greater body roll
-> Reduced wind resistance by 5% based on calculations with a more realistic Coefficient of Drag
-> Lowered fifth wheel pitch angle to 7 degrees based on EU standards
-> Increased fifth wheel roll angle from 0 to 6 degrees for better simulation of trailer roll during cornering
-> Increased cabin mass to 800.0 to better simulate cabin suspension behaviour
-> Reduced wheel mass to 85.0 to reduce rolling resistance and better reflect real-life wheel mass
-> Optional: Increased clutch strength by a factor of 5 to better simulate engine and gearbox resistance and to reduce degree of 'clutch-slipping/CVT feel'
* This can make the truck more difficult to drive especially on manual (with clutch) transmission option. Remember to accelerate slightly while in gear to move off in coordination with timely parking brake usage.
Please remember to set the trailer stability to minimum to improve gameplay and driving enjoyment! More changes and even better chassis suspension will be coming your way in the future (whenever SCS Software decides to allow for greater suspension tweaking and perhaps even full cab suspension simulation instead of the current fixed pivot-like system)! This mod works better on 4×2 and 6×2 chassis and can be a little too stiff for 6×4 chassis.
*Place the .scs mod file in /Documents/Euro Truck Simulator 2/Mod and remove all previous versions of this mod. Remember to activate the mod via the Profile Edit page at game startup.
PLEASE DO NOT REUPLOAD THESE FILES TO ANOTHER SITE OR PROVIDE MIRROR LINKS. REPOSTING ON OTHER FORUMS ARE ALLOWED BUT PLEASE CREDIT THE ORIGINAL AUTHOR THAT IS ME. REPOST USING THE SAME DOWNLOAD LINKS!
Credits: nfshp253
DOWNLOAD 91 KB Normal Clutch [adf.ly]
DOWNLOAD 91 KB (Optional) Better Clutch [adf.ly]
DOWNLOAD 91 KB Normal Clutch [dropbox]
DOWNLOAD 91 KB (Optional) Better Clutch [dropbox]
Video demo with a DAF XF 4×2 from Manchester to London: