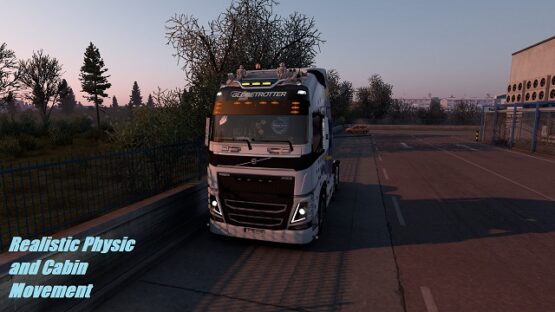 "Realistic Physic and Cabin Movement" Mod for ETS2 Ver. 1.5
Compatible with 1.4x.x and higher of ETS2. Please keep original download link!
Changelog: 1.5
– Fixed centering shaking by steering wheel, now it feels more like indireclty steering
Added Trucks
– Mercedes 1632 NG [Edit by Ekualizer]
– DAF F241 series [by XBS]
– VOLVO F88 [by XBS]
– Scania T Mod [by RJL]
– DAF 95 ATi [by XBS]
– Big Stars [by WTD]
– Kamaz 5490 Neo [by Max_Dmitriev & others]
– MAZ 5440 [Bruieser & others]
– FORD F MAX [by SimülasyonTÜRK]
Changelog: 1.4
– Fixed excessive shaking of the cabin
Donate
My mod is free for all to download. However, If you like, what i`m doing and want to support my work, you can transfer any amount of money, on my Stream-Donation site on this link: https://www.tipeeestream.com/kaallii/donation
All donations are very welcome! Thank you very much!
https://www.twitch.tv/kaalii my twitch channel
Do not reupload this mod to other filehostings and keep original link! Thank you!
Have fun and keep trucking!
Created by Kaali, February 2022.
Credits:
Kaali
DOWNLOAD 37 MB