Realistic Physics Mod v1.7 Update for ETS2 v1.3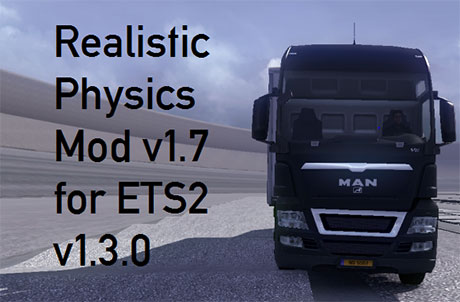 *This version will only work with version v1.3.0 of the game.
*Please place either version (with/without speed limiter) this mod in /Documents/Euro Truck Simulator 2/Mod and remove all previous versions of this mod.
Changelog (v1.7)
-Unified mod for all chassis types (4×2/6×2/6×4/8×4/8×6)
-Reduced default brake torque to take into account of retarder and motor brake (please set brake intensity slider to a tad on the right from the center)
-Increased chassis spring damping
-Reduced retarder viscosity
-Included a huge plethora of new transmission options all based on real data including 12, 14 and 16-speed Automatic and Manual transmissions
-Optional retarder available for purchase for all gearboxes
Author: Oscar Lee (nfshp253)
DOWNLOAD With limiter 66 KB
DOWNLOAD Withour limiter 66 KB

PLEASE DO NOT REUPLOAD THESE FILES TO ANOTHER SITE OR PROVIDE MIRROR LINKS. REPOSTING ON OTHER FORUMS ARE ALLOWED BUT PLEASE CREDIT THE ORIGINAL AUTHOR THAT IS ME. REPOST USING THE SAME DOWNLOAD LINKS!